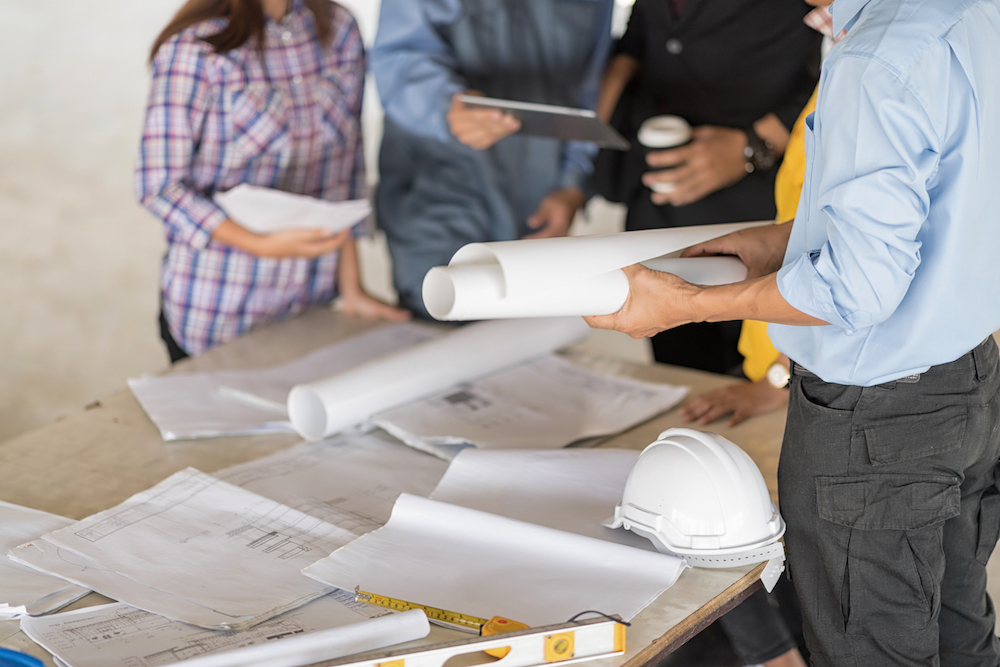 Common Reasons Why Commercial Building Plans Are Disapproved
Gaining approval from local and state governments on a commercial construction project can pose quite the challenge. Meeting building code elements such as fire safety and accessibility requirements can put a project on hold if not incorporated correctly. In this article, RCA Contractors Inc. will discuss some of the most common reasons why commercial building plans are not approved by government agencies.
Compliance with Types of Construction
Although building requirements vary based on which type of building is being erected, Type I, II, III, and IV buildings are required to have a certain degree of fire-resistance in their infrastructure. Building elements such as the weight-bearing interior and exterior walls, nonbearing interior and exterior walls, structural frames, flooring, and roofing are required to have fire-resistance ratings of anywhere from 1-3 hours according to Florida Building Codes. Owners can ensure their building is compliant with building codes by utilizing fire-resistant materials such as fire-retardant-treated wood, cross-laminated timber, and other noncombustible materials to construct their exterior walls.
While the materials that comprise a project's infrastructure can surely prevent a project from gaining approval, it is also imperative that owners and contractors are implementing structural elements, like roofing and flooring, in accordance with Florida Building Code specifications. Details regarding lumber spacing, insulation, air ducts, and piping are all items that are often overlooked during a project and can cause great difficulty in the approval process. Specifics regarding types of construction can be found in Chapter 6 of the State of Florida's 2017-2018 Building Code Manual.
Compliance with Florida Accessibility Code
The Florida Accessibility Code incorporates key aspects of the American with Disabilities Act of 1990 (ADA) into Florida Building Code specifications. Common ADA violations in commercial construction projects include the exclusion of doorway ramps, lack of marked parking with a marked access aisle and signage, inadequate doorways, lack of handicap restrooms, and toilets that are not mounted the correct distance from the wall or partition.
Compliance with Hurricane Precautions
It should come as no surprise that local governments have incorporated hurricane proof building elements into building codes. In Florida, projects often fail to gain approval through neglecting hurricane straps.  Hurricane straps are joints of steel that secure a building's roof to its infrastructure and can also be used to attach to windowsills, wall intersections, and flooring. When installed correctly, hurricane straps can significantly increase the integrity of a building's infrastructure that may be compromised during hurricanes, tornadoes, and earthquakes. Typical infractions in hurricane strapping include incorrect installation or a complete lack of straps.
Compliance with Structural Design Elements
Although there are a variety of structural elements that can do a project under, commercial construction professionals often face challenges with state codes regarding trusses. Trusses function as a framework for the roof of a building. Typical building code violations for trusses include improper slope, spacing, size and weight- bearing capacity. Florida building inspectors are harsh on approving such structural elements because of the integral role they play in upholding a facility's roofing system.
Compliance with Means of Egress
Fire safety and evacuation plans must be provided for all occupancies and buildings under the Florida Fire Prevention Code. In the state of Florida, it is unlawful to alter a building or structure to reduce the number of exits, aisles, corridors, and other walkways that would compromise any means of egress from a building. Such alterations or obstructions will prevent project approval from local authorities.
Documentation and Shop drawings
There are a great deal of documents that must be included in building application packages, and if not all documents are signed, sealed, and quantified properly, a project will be disapproved. These documents include specifics regarding manufacturing, project plans, project engineering, and energy calculations. Although they may have not been implemented into the final project, expired documents must be provided to building officials during the approval process. Other important documents that must be included in a commercial building document package include copies of approved building construction plans, floor and roof truss engineering outlines, signed Statewide Product Approval Specification Forms, and details regarding manufacturer installation instructions for windows, doors, roofing materials, and engineered lumber products.
If you're interested in constructing or renovating your own commercial space, but you're worried about gaining approval from local and state governments contact RCA Contractors Inc today!
Share :