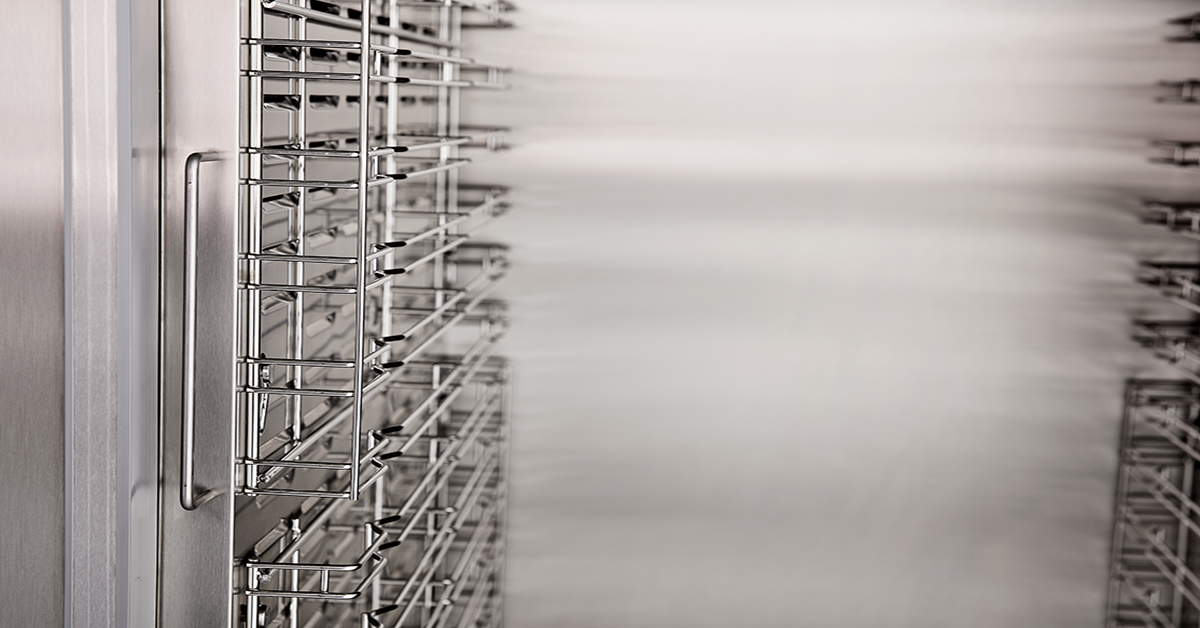 How to Find the Best Walk-In Cooler Latch Kit for Your Restaurant
If you notice your walk-in cooler warming up a few degrees after a busy shift and taking several hours to cool back down, you could easily end up with a spoilage issue on your hands. Food spoilage is a serious cut to a restaurant's bottom line, so you'll want to immediately troubleshoot the cause of a warming cooler.
There are a few basic cooler component parts to check to locate the issue. The first and easiest part on the cooler to check – and a common area for a cooler breakdown to occur – is the door handle latch. If your cooler's latch is loose, broken or flimsy, then your mystery is solved.
Something as Simple as a Walk-In Cooler Door Handle is One of the Most Important Parts of a Safe, Functioning Kitchen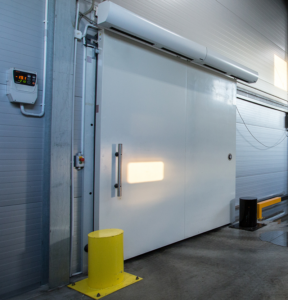 No matter how high-end or pricey your walk-in cooler was when you bought it, its mechanical parts are still going to need to be repaired and replaced at some point. This can be especially true of the cooler's latch which takes the brunt of the abuse that any restaurant kitchen puts on its refrigeration equipment.
The latch is pulled and pushed dozens of times each day – day in and day out – and may show wear and tear before other components. When that wear and tear starts to show, you're going to see it impact your cooler's temperature and performance. A cooler latch helps create a strong, air-tight seal between the door and the cooler wall. When the latch isn't doing its job, you can quickly start to lose money to food spoilage and your electric bill.
There Are Several Key Features that Differentiate the Multiple Types of Commercial Walk-In Cooler Latch Kits Out There
When it's time to replace your walk-in cooler's latch kit, know that not all latches are created equal. At a minimum, the latch you choose needs to check these four boxes.
Maintains an Air-Tight Seal
As I said before, your latch kit's job is to create a tight seal around your cooler door and maintain the cooler's temperature and the safety of your food inventory.
Includes an Inside Safety Release Button or Latch
This is critical! Without a way to unlock the walk-in cooler from the inside, you risk the health and safety of your staff. Make sure your latch kit includes an inside pull knob or lever that opens the cooler door from the inside even when the door is locked.
Made with High-Quality Metal Like Stainless Steel
In order for a latch kit to last and hold up in a busy kitchen, it needs to be constructed with solid, sturdy metals – ideally stainless steel. The greater the number of staff members going in and out of the cooler and pulling on the door, the more critical this feature is to the cooler's performance.
Choose a Latch Made from a Trusted Manufacturer
Latches are simple mechanical tools yet they require a level of precision that only a few manufacturers have honed. Find a reputable manufacturer creating reliable latches that last.
Kason Walk-in Cooler Latches Are My Go-To Commercial Cooler Latch Kits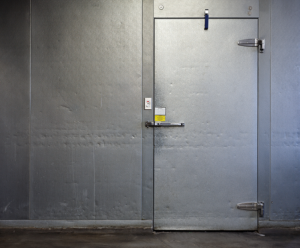 There are others out there that can do the job well, but I've found Kason to consistently build reliable, high-quality latches that continue to work year after year. Whether you have a small walk-in, oversized walk-in or anything in between, Kason has multiple options that are going to work well in the busiest of kitchens. Below is a list of my favorite walk-in cooler latches from Kason.
Pro Tip: Measure your door and current latch set-up before you determine the best new latch kit for your cooler door. Some doors require a flush mount while others require an offset mount. I've included both versions of each latch kit on my list to help you find the best latch for your particular cooler door.
5 Quality Kason Latch Kits to Check Out When You Need a Replacement
Kason Safeguard Radial Latch Kit – Flush Mount
This Kason model is one of the company's more economical latch kits. It gives your walk-in cooler door a smooth, easy closure. It's self-closing and will close tightly behind you if your hands are full of food as you leave the cooler. It also has an adjustable, solid strike head which will help minimize wear and tear from opening and closing the cooler.
Offset Version: Kason Complete Offset Radial Latch Kit
Kason Complete Locking Latch Kit – Flush Mount
This locking kit is another great option from Kason. It has an end handle that pulls up and away from the door releasing the latch from the rolling strike. I like this latch kit because of its self-closing feature. This can dramatically impact the cooler's temperature keeping the cold air inside and maintaining an air-tight seal. The latch also releases with minimal pressure making it easy to pull. The focus with this latch kit, however, is safety. Even if the door is locked from the outside, the inside release handle will open the door and keep your employees safe.
Offset Version: Kason Complete Offset Locking Latch Kit
Kason Walk-In Safety Latch – Flush and Offset
This latch kit put Kason on the map as a heavy-duty refrigeration equipment manufacturer. It's one of my go-to's for any restaurant with a large cooler door. It has an inside release lever that will automatically unlock the cooler door if needed to make sure no one is ever locked inside. What I also love about this particular latch kit is how precisely you can adjust the strike. It's micro-adjustable so you can pinpoint the exact position of the strike relative to the latch for the perfect fit.
Kason Safeguard Latch and Strike Kit – Flush Mount
This Safeguard Latch and Flush Strike kit from Kason is for all of the busy walk-in coolers out there that see a lot of foot traffic and, consequently, a lot of abuse. This latch's heavy-duty handle is constructed with 300-series stainless steel and has a bolt-type tongue for positive locking action. It also has a padlocking body and a 6-inch inside release to keep employees safe from accidentally getting locked in. This is an all-around solid latch kit that a busy kitchen will be glad to have.
Offset Version: Kason Safeguard Offset Latch and Strike Kit
Kason Walk-In Locking Handle Assembly
If you're looking for a simple handle rather than a full latch kit, Kason makes this, too. This solid, sturdy handle is one of my favorites. Kason has managed to keep this handle simple yet still packed with important features. First, the handle takes safety seriously with a glow-in-the-dark push sign on a twist knob on the inside release should an employee ever be inside a dark refrigerator with the door closed. The full kit includes an internal strike for added safety. From a security standpoint, it includes both a cylinder lock and a padlock. You can use this one on either a right or left door.
Once Your Find Your New Latch Kit, Installation is a Pretty Simple Task
You should immediately replace the walk-in cooler latch when you get it to stop any more air from escaping. Here's how to install a simple latch handle.
Tools You'll Need
Step 1: Remove the Existing Handle & Strike
Unscrew the handle and the latch strike from the face of the door. Then remove the handle or lever from the inside of the door.
Step 2: Clean the Holes in the Door
Once the old handle is removed, I guarantee you're going to see dirt and even rust around the installation holes that are now exposed. You'll want to clean those with a firm wire brush as best you can before you install the new handle.
Step 3: Install the New Strike
You should be able to install your new latch kit in the same holes used by the old latch system. To install the new strike, you simply screw it into the exterior wall of the cooler. It should line up just as the original strike did and not interfere with the door opening and closing.
Step 4: Install the New Latch Handle
Follow the same procedure you did when removing the handle, but now in reverse. The latch kit should come with screws to make the installation easy and quick. You'll know the handle is installed properly if it easily connects with the strike and lets the cooler door gently self-close without much pressure, creating a tight seal.
Pro Tip: If you finish installing the handle but the handle and strike aren't quite connecting the way they should, you may need to adjust the door's arm above the outer hinge. To do this, tighten the arm's screws with a large flat tip screwdriver and continue until the latch closes properly.
A Broken Cooler Latch is a Major Concern, but Replacing the Latch is Easy and Painless
Find the best walk-in cooler latch for your particular cooler and get the new system installed quickly to avoid one more day of temperature loss. This is not one of those mechanical issues you want to put off for too long.
As you read through my list of recommended cooler latches for your restaurant, use the comments section below to get in touch with questions or suggestions. I'm here and ready to help with this or any other of your commercial construction projects.
Share :