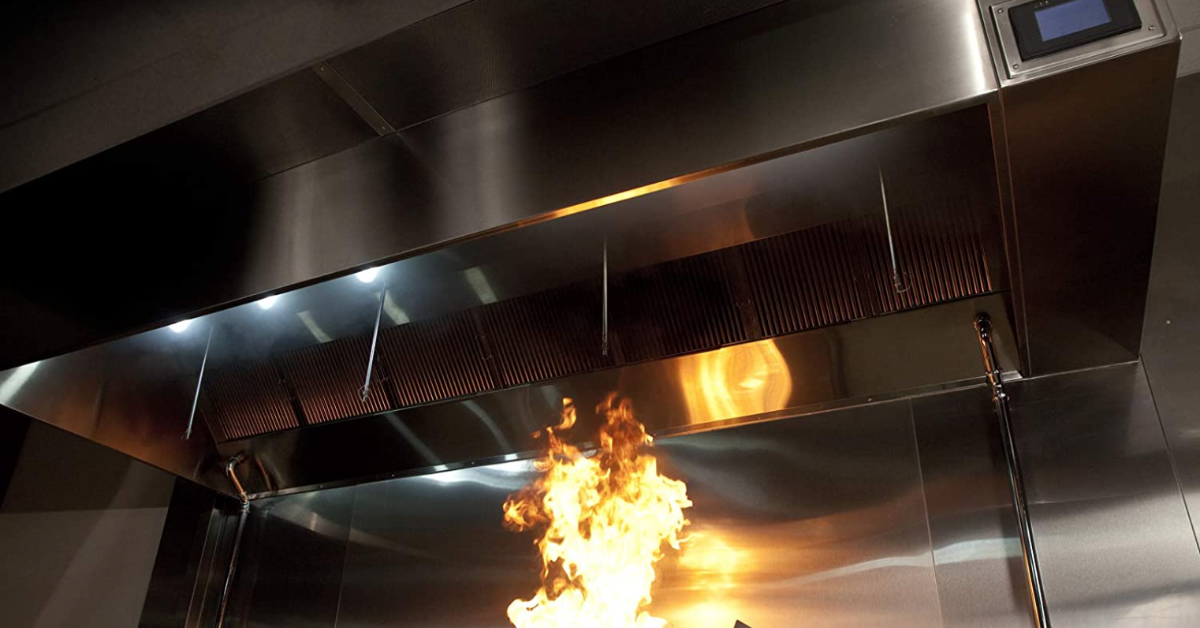 4 of the Best Commercial Range Hoods for Your Restaurant
A commercial range hood may seem like just another piece of equipment in your restaurant's kitchen. But, without it – or without a quality hood – your kitchen will almost instantly turn into a smoky, polluted fire hazard.
You get what you pay for with a commercial range hood. So, if your budget is tight, skimp elsewhere. Invest in a quality commercial range hood to keep your restaurant's kitchen clean, your staff healthy, and your food delicious.
What is Your Commercial Range Hood Actually Doing Up There?
Range hoods suck the heat, steam and smoke up and away from the range while your chefs and line cooks are hard at work. But there's more going on up there than you may even realize.
A range hood ventilation system is made up of the hood you see hovering over your range, an exhaust fan and a make-up air fan. The exhaust fan is what takes the heat, smoke, and steam that's above the range and pushes it out of the building. While that's happening, the make-up air fan replaces the exhausted air with clean air to keep the air pressure balanced inside the restaurant.
When your ranges, grills and fryers are all firing, there are a lot of by-products getting dispersed into the air at once. A quality range hood keeps the air clean by removing by-products like grease, smoke, and other pollutants at the same rate that it's being produced.
The amount of time your kitchen operates each day is only one factor when you're selecting the right range hood, though. Finding the best and most effective commercial range hood for your kitchen will also come down to the types of food you're preparing to serve.
Type 1 and Type 2 Commercial Range Hoods
There are two types of commercial range hoods. Type 1 hoods are known as 'grease hoods.' Type 2 hoods are known as 'condensate hoods.'
Type 1 Commercial Range Hoods
As you may have guessed, type 1 – grease hoods – are designed to remove the greasy by-products thrown up into the air as you cook. These hoods are your heavy hitters. They have to have a ton of power and strength to stand up to the greasiest kitchens and still keep the kitchen air clean.
Type 1 hoods must be installed at or above all commercial type deep far fryers, boilers, hot top ranges, fry grills, steam jacketed kettles, rotisseries, BBQs, and any other cooking equipment that produces grease or smoke.
Type 2 Commercial Range Hoods
Unlike type 1 hoods, type 2 commercial range hoods are made to remove heat, steam, water vapor and food odors from the kitchen. Any range that's not cooking with grease can have a type 2 range hood staring down from above.
What to Know Before You Select a Commercial Range Hood
Your Hood Should Cover the Entire Cook Area
In order to capture all of the grease and smoke a range gives off, the hood has to cover the entire range. The National Fire Code (NFC) dictates that a commercial restaurant hood should extend beyond the equipment it's over by at least 6 inches. Make sure the length and depth of your hood match up to your range's cooking surface.
Your Hood Should Vent to the Outside
Most commercial range hoods do this. But, you should only install a range hood that vents to the outside. Hoods that vent back inside the building are serious fire hazards.
Your Hood Should Include a Fire Fail Safe
While we're talking fire safety, a fire suppression system is a must-have for any hood you purchase. This simply means that your hood system connects to a series of tanks filled with fire-suppression agents and, likely, your building's sprinkler system. Your municipal fire code probably requires this to be installed, so having a fire fail safe will keep you in compliance with local fire codes, as well.
Your Hood Should Exceed Your Necessary Hood Exhaust Rate
Hood exhaust rate is crucial. The best quality hood out there has a limit as to how much air it can exhaust at any given moment. Your hood needs to keep up with the volume of heat, smoke, vapor and grease your kitchen expels at its peak. Exhaust rate is measured by the system's volume of airflow, measured in cubic feet per minute (CFM). A commercial contractor can help you determine your kitchen's hood exhaust rate and ensure the hood you buy can handle your busy kitchen.
My Picks for the Best Commercial Range Hoods for a Restaurant
Where and how your ranges are installed will determine the type of range hood you need. The most common is a wall canopy hood mounted on the wall above the range. While there are other variations, I'm focusing this list on wall canopy hoods.
12-ft Commercial Hood Exhaust System from Ventilation Direct Store
This massive commercial hood system gives big kitchens a big way to keep grease and exhaust out of the kitchen. Beyond the hood, it includes a rooftop direct drive exhaust fan, an untempered supply fan, and flat roof curbs. It's constructed with 430 stainless steel and is built at 48-inches deep to adequately capture all of the grease and fumes your range puts out. It can withstand heavy-duty cooking from the busiest kitchens. This wall canopy hood is also available in other lengths starting at 4 feet.
12-ft Commercial Hood Exhaust System from Sun Air Store
This wall canopy range hood system has everything you need to maintain a well-ventilated kitchen. The kit comes with a stainless-steel exhaust hood, upblast exhaust fan, an untempered supply fan, roof curbs, electrical controls, and much more. This 12-ft system can handle your biggest kitchen but, like the other big system on the list, it comes in a variety of shorter-length system options as well.
8-ft Commercial Hood Exhaust System from HOODSMART
This is a great commercial hood system from HOODSMART. They offer a type 1 hood with a perforated supply plenum (PSP) make-up air fan. And, it's constructed from heavy-duty 18-gauge 430 stainless steel so you know it's going to hold up against the toughest grease your kitchen throws at it.
10-ft Commercial Hood Exhaust System with Heated MUA from Ventilation Direct Store
If you live, work, and cook in a part of the country that sees cold weather, you'll want to invest in a hood exhaust system with a heated MUA. It may even be worth considering if you live here in southern Florida.
So, what's heated MUA? At the beginning of the article, I described that the purpose of the make-up air (MUA) fan is to replace the air that the exhaust fan removes. That make-up air is pulled in from the outside. So, when temperatures are low and that outside air flows in, you're going to have a large group of cold, angry customers and staff if that outside air isn't heated first.
This heated MUA hood exhaust system has all of the bells and whistles of the others plus the ability to heat the air coming back into your restaurant. This particular hood comes in additional lengths ranging from 8-ft to 12-ft.
Once You Have the Right Range Hood in Place, You'll Need the Right Range Hood Filter
For range hoods to do their job and consistently keep hot grease and fumes out of the air, they need a quality range hood filter.
Some filters fit specific exhaust systems, so the first step is finding one that's made to fit your particular range hood system. Next, look for a durable stainless-steel filter that can stand up to a high volume of grease and build-up. Then, make sure the one you have your eye on is easy to install and easy to clean.
I recently wrote a round-up of restaurant hood filters to help owners weed through the clutter and find the best filter for their kitchen. You can read the article here: "The 5 Best Restaurant Hood Filters for Your Busy Commercial Kitchen."
Even the Best Commercial Range Hood is No Match for Poor Installation
Installing a range hood, even in a small commercial kitchen, is a job for a professional. You'll be contending with electricity and your existing ventilation system, both of which are not DIY-friendly areas of construction.
When a range hood isn't installed properly, it also becomes a fire risk. Funneling hot grease and vapor through a series of vents until they reach the exterior of your building still leaves a lot of time and space for heat and pressure to build along their journey. Only allow a professional contractor to install a commercial range hood in your restaurant.
One of the reasons why I recommend products on Amazon is that oftentimes the product you need is either out of stock or on backorder from the manufacturer or third-party site. I find Amazon to be much more reliable when I need a product fast because they have access to so many sellers.
Share :