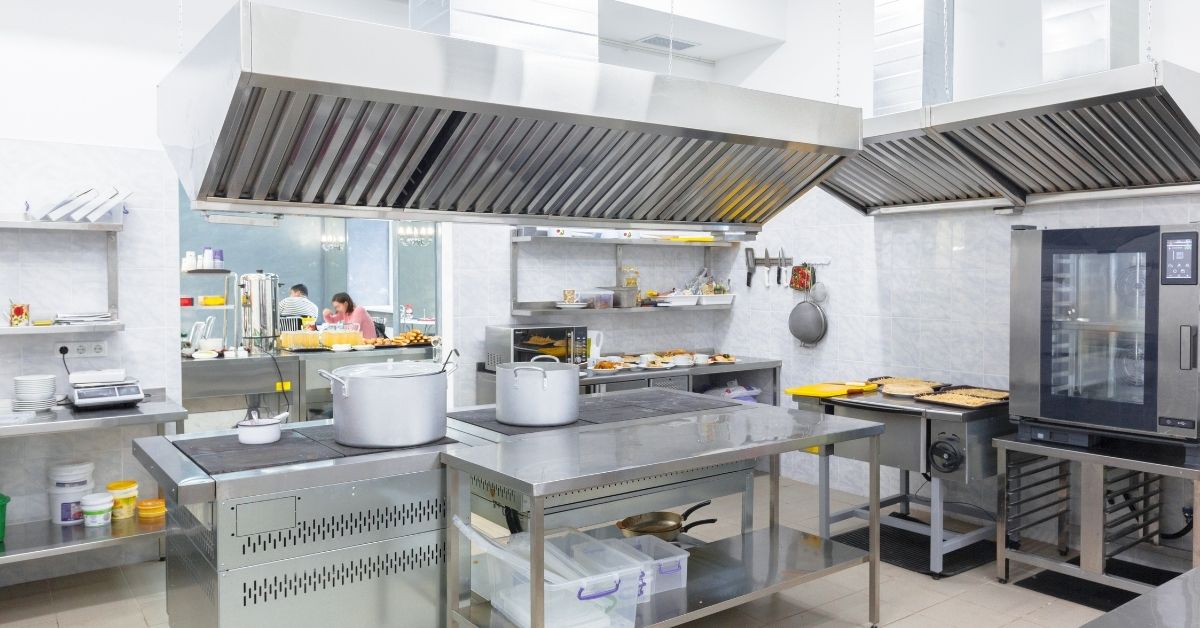 5 of the Best Restaurant Hood Filters for Your Busy Commercial Kitchen
I don't have to tell you how much time and energy goes into running an efficient kitchen and a profitable restaurant business. Running on slim margins leaves no room for downtime. And even small equipment breakdowns create big problems for your ability to serve customers and stay in the black.
Quality restaurant hood filters are one of the most critical components of a commercial kitchen. They keep things clean and let your cook staff do their job. And yet, they're rarely given much thought or consideration when restaurant owners are shopping for a new kitchen exhaust system or doing maintenance work on an existing hood.
---
Looking for Commercial Range Hoods? Check Out The Best Commercial Range Hoods for Your Restaurant
---
But a restaurant hood filter that reaches its breaking point can instantly bring your kitchen to a screeching halt. And a hood filter that can't keep up or doesn't do its job of removing harmful contaminants from the air can create a health hazard for your kitchen staff and your guests.
Buying a less-than-quality hood filter to start with, not installing it properly, or failing to clean the filter regularly, will create a dirty, greasy mess of a kitchen.
Running Your Kitchen with an Improperly Installed or Broken Restaurant Hood Filter is a High-Risk Game
Three words: Health. Code. Violation. If your restaurant hood filters are improperly installed, broken, or coated in excessive grease build-up, there's a higher likelihood you'll receive a health code violation the next time a health inspector swings by.
If your inspector decides to thoroughly inspect the filter, they may ask you or your staff to remove it to check for build-up. Most inspections focus on a series of inspection points, regardless of the type of restaurant kitchen they're examining.
Take a closer look at your restaurant hood filters and ask yourself these questions:
Is there excessive grease build-up?
Is the filter installed correctly? Is it bent or damaged?
Are the filter baffles evenly spaced?
Are any baffles missing?
Do the bars in your baffle filter run vertically?
Is the filter accessible and easily removable for cleaning?
Is your baffle filter installed at a 45-degree angle or more from the cooktop?
Are fuel and other combustibles near the exhaust system stored properly?
If the answers to these questions reveal any potential hazards in your current kitchen, it's time to take a look at a new, quality restaurant hood filter. Quality filters are easy to clean and maintain, and they'll give you the peace-of-mind of knowing you're taking good care of your kitchen, staff, and guests.
My Picks for the Best Restaurant Hood Filters
Here are several restaurant hood filter options from several of the industry's leading manufacturers. Each filter is available in multiple size options. Click each product link below to select the right one for your kitchen.
Kleen-Gard Stainless Steel Restaurant Hood Filter
Kleen-Gard is a highly trusted brand and a go-to for the busiest restaurants. These baffle hood filters are durable, resist corrosion and hold up to heavy kitchen grease – all features that will help your next health inspection go smoothly. As far as price, Kleen-Gard is a mid-range hood filter – a quality filter that won't break the bank.
New Star Stainless Steel Restaurant Hood Filter
New Star restaurant hood filters are made for kitchens that deal in high-volume orders or produce a lot of grease and heat each day. This particular filter from New Star is slightly longer than many other filters with dimensions of 16-inches wide by 25-inches long. The price point on a New Start filter typically falls just below the Kleen-Gard models.
VBENLEM Stainless Steel Restaurant Hood Filter
This filter stands up to the greasiest kitchens with several innovations rolled into one filter. It has 7 collection troughs among its baffles to collect a high volume of grease and contaminants from the air. And, because the grease holes are evenly distributed on both sides, grease doesn't get stuck and plug the holes – one of the biggest reasons other filters fail to perform over time. The company claims its filters have a 94% efficiency rate for removing grease from the air as your kitchen grills and fries. If your budget is tight, VBENLEM may be a good company to turn to as these filters come in at the low end compared to the other filters on this list.
Captive Aire Stainless Steel Restaurant Hood Filter
Another company to check out for quality hood filters is Captive Aire. Captive Aire filters are known for their lightweight design that makes installation, maintenance, and removal a breeze. They're easy to clean with just a little dish detergent. And, you get all of this along with the strength and corrosion-resistance of stainless steel. Captive Air filters are a great mid-range filter priced similar to Kleen-Gard's models.
Captrate Stainless Steel Restaurant Hood Filter
Similar to the Captive Aire model, this baffle restaurant hood filter from Captrate is easy to clean and easy to install and remove. It offers up to 85% efficiency at capturing particulates, reducing the grease build-up in the hood as well as the ducts and fan.
The only drawback of this highly efficient filter is its price tag. It tops the list as the most expensive filter. You're going to pay close to double for this filter compared to the others. However, if your kitchen is prone to grease build-up or if you're working overtime to feed hungry customers, the investment in a good filter will pay dividends down the road.
For even more options and sizes, check out this list of Restaurant Hood Filters.
Keeping Your Kitchen Hood Filters in Good Working Order Keeps Your Kitchen Running
The good news is that restaurant hood filters are relatively inexpensive, easy to install, and easy to maintain. The hardest part may be remembering to take them apart and clean them regularly.
Hood filter maintenance starts with the purchase of a set of quality filters. This is not a product to skimp on – a good quality filter is worth every penny if it keeps your restaurant running and your customers happy and full.
One of the reasons why I recommend products on Amazon is that oftentimes the product you need is either out of stock or on backorder from the manufacturer or third-party site. I find Amazon to be much more reliable when I need a product fast because they have access to so many sellers.
Share :