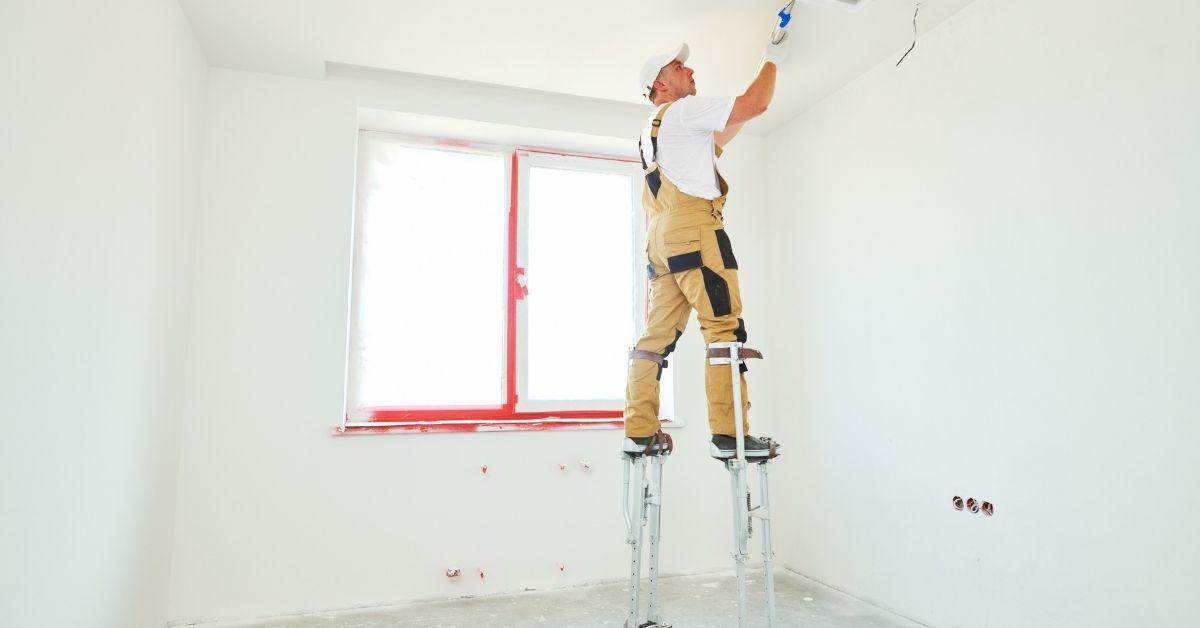 Three of the Best Drywall Stilts for DIYers
When it comes to DIY renovations that involve hanging, repairing, or finishing drywall or installing a ceiling, chances are you're probably going to need to elevate yourself to reach the highest areas of the room. Most DIYers tend to go with convention: a moveable ladder or step stool.
While it is budget friendly to move a ladder or stepstool from place to place, it can also get rather tedious, especially if you're working with a large room or multiple rooms. Climbing down and then back up again ever few feet can also get tiring. That's why I recommend investing in a set of drywall stilts.
There are literally hundreds of drywall stilt sets to choose from, and each comes with its own plusses and minuses. You can prioritize metal type, strap material, height range, and more. Interestingly, drywall stilts aren't as expensive as most think. You can expect to spend about what you'd spend on a quality ladder. Just like ladders, the more expensive ones will provide different features or heights and, generally speaking, will be sturdier and of higher quality.
The 3 Best Drywall Stilts for DIY High Work
Weight is really everything when it comes to finding the right drywall stilts. Lighter is always better, but they also must be stable and durable. Too light and they won't stay put when doing precision work; too heavy and mobility—the reason you got them—might become an issue.
You're also going to want to make sure the stilts have non-slip rubber treads and quality leg straps that won't slip, but also won't dig into your legs and create undue discomfort. Muscle fatigue and sore calves are common ailments after doing renovation high work—regardless of whether you use stilts or a ladder, so you'll definitely want to find a comfortable solution. Other considerations include height range, footplate adjustability, and weight capacity.
Here are my picks:
Yescom 24″-40″ Professional Grade Adjustable Drywall Stilts

These stilts are among my favorites, because they are made well, they're durable, and (most of all), they're comfortable.  They also offer great bang for the buck. Although 14"-22" stilts will work for most high spots in the average home, these higher-height stilts can help those who are working on higher ceilings or in garage areas. Built from an aluminum alloy, they're lightweight, but surprisingly strong. The nylon straps are rip and snag proof, and have a solid metal buckle, which keeps them in place nicely. They also offer adjustable heel brackets with three settings. Like all drywall stilts, they can become uncomfortable over time, so if that's the case for you, I recommend picking up a comfort padded stilt strap leg band. These bands by All-Wall are easy to put on and take off, and the foam padding makes a big difference when it's necessary to stand in stilts for long periods. The only real downside to these stilts is they top out at 225 lbs.—like most stilts. If you're a big guy, like me, you might want to look for other options. I've used these before without problems, but since I'm over the maximum weight capacity (I'm not saying by how much), I can't in good faith recommend them for people over the limit.
SurPro 24"-40" Quad Lock Magnesium Drywall Stilts


Weight is always an issue with drywall stilts: your weight and the weight of the stilts themselves. The weight of the stilts depends largely on the material used. Aluminum is the lightest and therefore the most common material, but magnesium and stainless steel are also popular. Stainless steel is heavier to lift with your legs, but it can also bear a greater amount of weight. Here's the thing, though: regardless of what type of stilts you choose, the package label is always going to list 225 lbs. as the maximum capacity. For years, contractors have spoken about SurPro's higher weight capacity. They used to say they were 225 lbs. per leg, but now they've reverted to a total weight capacity of 225 lbs. Out of caution, I will say that you should never opt for drywall stilts if you're over the weight capacity limit. If you're a bigger guy that happens to be right around that weight, though, these are definitely the stilts for you. Not only are they easy to assemble, they're also a great weight. Now, don't get me wrong, they're not as lightweight as the aluminum Yescom stilts, but they are certainly lighter than some of the stainless-steel versions out there. You'll also need to assemble just about any stilts you buy, and these are very easy to put together.  They come at a higher price point, but you'll understand why once you are up and moving around on them.
Dura-Stilt 14"-22" Dura IV Drywall Stilts


These are premium stilts, and they come with a premium price. They call them "feather weight," and while they are definitely lighter than you'd expect, I wouldn't exactly say they're light as a feather. They are definitely high-quality stilts, though. They provide great mobility, and are noticeably lighter than magnesium stilts, because they're made of aluminum alloy. Even so, they also seem to be lighter than the Yescom stilts, and provide much greater control and easier movements. While they do feature nylon straps, they also have a pretty awesome leather ankle strap that really offers superior comfort and security. My favorite feature is the clamshell design, which makes putting them on and taking them off super easy. It also allows you to adjust them easily once they're on, as well.
A Few Important Safety Notes About Drywall Stilts
Drywall stilts are a wonderful tool, but like any tool, they can be used incorrectly. Always be sure to use the stilts as instructed and be careful where you use them. For example, you don't want to use them on slick, oily surfaces, because even though most of them have non-slip feet, it's probably not a good idea to put them to the test on slippery surfaces. The same goes for uneven surfaces.
Also be sure to inspect your stilts every time you put them on. Make sure no straps are worn out or missing, make sure bolts are tight, and be sure there is no excessive wear at the connection points. Running isn't a good idea on stilts and carrying heavy equipment, tools, or materials can lead to an accident. Remember that your stilts are metal, and therefore conduct electricity. If you need to work around electrical sources, it's probably best to remove the stilts or at least use extreme caution.
Finally, if you're new to stilts of any kind—but especially drywall stilts—make sure to practice using them in safe environments … at the lowest height setting possible. A fall from any height can result in serious injury or even death, and a fall from drywall stilts is no different. Don't try to use drywall stilts in a construction or renovation environment until you have experience and practice using them.
What To Do Now
Hanging drywall is a laborious activity, and heights are always a challenge. Comfortable and properly fitting drywall stilts can make the job a bit easier and a lot less painful. There are plenty of options out there but here's what to look for when shopping for them: you want a set that is lightweight but durable, easily adjustable but also secure, and slip-resistant and well-balanced.
Do you have a set of drywall stilts you prefer? I'd love to hear what you like and why. Drop me a line.
Until then, happy hanging!
One of the reasons we recommend products on Amazon is that oftentimes the product you need is either out of stock or on backorder from the manufacturer or third-party site. I find Amazon to be much more reliable when I need a product fast because they have access to so many sellers.
Share :