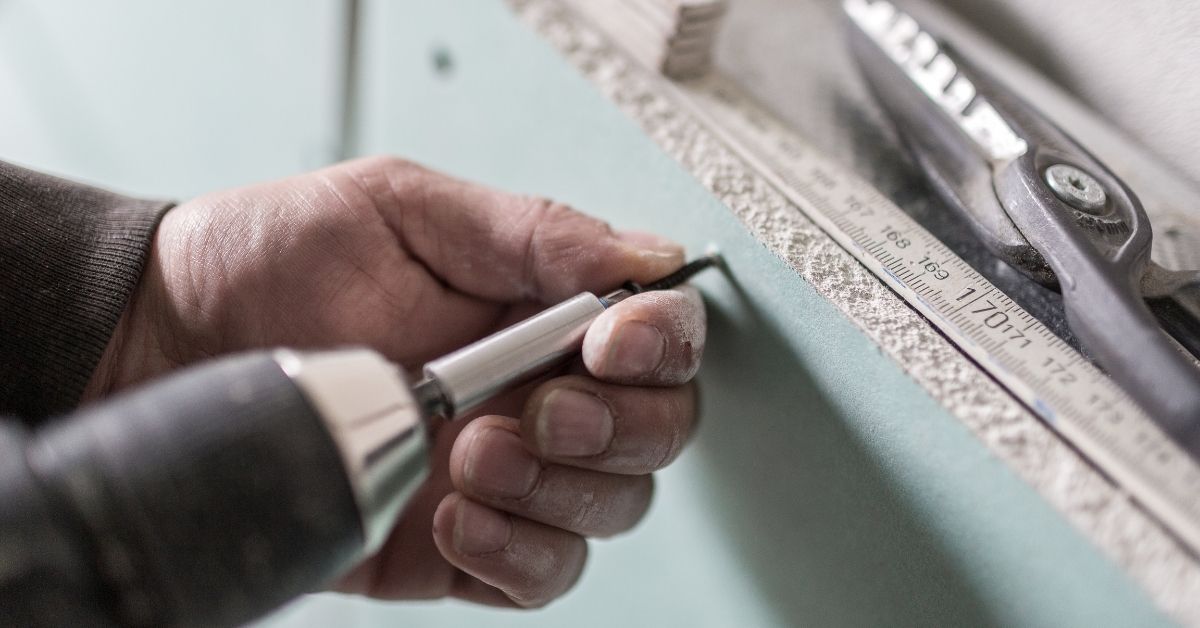 Four of the Best Drywall Screw Guns for Your DIY Remodel
Any tool that can effectively speed up a DIY project and remove tedious steps from a job is worth having on hand. There's a good chance that at some point your aging-in-place renovation will require new wall or ceiling drywall, especially if you're making updates to an older home.
A drywall screw gun is a great example of a tool that can make a job such as hanging drywall faster and easier, allowing you to make the most of the time you spend renovating.
What is a Drywall Screw Gun?
A drywall screw gun drills drywall screws into the drywall at the right depth. Hanging drywall is a seemingly easy job, but it's easy to add too much pressure with a typical power drill and poke, stripped holes into the boards. This simple tool can save you a ton of time, headaches, and money in the long run.
Drywall screw guns are now a commonplace DIY renovation tool that's relatively affordable. I highly recommend adding one to your tool kit as you start your DIY aging-in-place journey.
What to Look for When Buying a Drywall Screw Gun
Drywall screw guns are fairly standard, but you'll want to look for some key features to make sure you're buying the right screw gun for your project.
A depth gauge is a big one. Look for a screw gun with an adjustable screw collar with the ability to set the screw's depth. Drill too far down and the hole in the drywall is no longer usable. Getting the depth right is crucial.
Other features to look for include:
If you're hanging ceiling drywall, the weight of the screw gun may be a consideration. Cordless guns are going to be heavier than corded ones due to the battery pack they're lugging around.
A screw gun with a light built-in can make the job much easier in dark, tight spaces.
The power and speed with which a screw gun can drill may matter if you plan to use it to drill holes in other materials. If not, you can get away with a slower gun.
While not a part of the drywall screw gun itself, make sure the screw gun you choose can handle the types of screws needed for the area of your house you're adding drywall. Screw length will vary if you're drilling into a metal versus wood stud, for instance.
Best Drywall Screw Guns Out There for DIY Projects
Check out a few of my favorite drywall screw guns as you plan your purchase.
DEWALT 20-V Max Drywall Screw Gun


It's probably no surprise that DEWALT's screw guns top the list of my favorites. DEWALT is known for superior quality tool and their 20-Volt option is a great all-around gun.
It checks all the boxes: it's fast, lightweight, cordless, and has a built-in LED light. Despite being cordless, DEWALT has gotten the battery's weight down enough to make it more comfortable than other cordless alternatives. It has a brushless motor for maximum run time, locks securely when in use, and has more speed and power than other options so you can hang more drywall in less time.
You can purchase this same DEWALT drywall screw gun as a part of a DEWALT Drywall Screw Gun with a Collated Drywall Attachment and added tool bag if you're looking for an entire drywall kit.
Milwaukee M18 FUEL Drywall Screw Gun

The FUEL drywall screw gun by Milwaukee is another solid option. It features a brushless motor and delivers high speed at 4,500 RPMs. The noteworthy feature of this model is its auto-start mode. The gun's trigger can remain locked when the motor isn't running. All you have to do is put the screw in place on the drywall and the motor will automatically start. This reduces noise and gives you greater run time.
The downside of the Milwaukee screw gun is that it doesn't come with a battery. You'll need to buy one separately. I recommend buying a pack of two batteries so one is always charging and ready to go so you avoid downtime. Add the Milwaukee 18V Lithium-ion Battery High Output 2-Pack to your purchase.
The battery gives the screw gun a long run time, speed, and the torque needed to get large drywall projects done without skipping a beat.
Makita 18V Lithium Cordless Drywall Screw Gun


Makita makes another quality drywall screw gun at a slightly lower price point than the DEWALT or Milwaukee. It also has a brushless motor that starts only when the fastener is engaged making it a quieter screw gun than other models. With its lower price point, you do give up some power; the Milwaukee gun delivers 2,500 RPMs. But for simple DIY projects, it'll get the job done.
Like the Milwaukee screw gun, you'll need to purchase a battery for this screw gun separately. Add the Makita 18V Battery 2-Pack to your list to complete the purchase.
Ryobi 18-Volt Drywall Screw Gun


Ryobi is your best budget-friendly drywall screw gun option. If you don't anticipate a lot of drywall work with your aging-in-place renovation but need the tool to take care of one job, a budget-friendly screw gun may make sense.
With Ryobi, you get 4,700 RPMs of speed and a brushless motor. It also comes with a built-in LED to help illuminate dark work areas. It's also adjustable and automatically starts when the nose makes contact with the drywall so you have less downtime.
The one downside is the non-magnetic tip. With this feature lacking, if a screw falls off when you're installing drywall overhead, that screw will fall to the ground rather than staying put on the nose of the gun. You'll also have to buy the Ryobi battery separately which is another downside.
Overall, though, the Ryobi is a good choice for DIYers who want to speed up drywall projects but without overinvesting in a tool that won't get much run time.
SEE ALL DRYWALL SCREW GUNS HERE
What Should You Do Now?
Drywall screw guns are the way to go if you have a decent number of drywall projects on your DIY renovation to-do list.
If you have questions as you decide which drywall screw gun is right for you, send me your questions using the comments section below. I'm here and happy to help.
Good luck with your next DIY home project.
One of the reasons we recommend products on Amazon is that oftentimes the product you need is either out of stock or on backorder from the manufacturer or third-party site. I find Amazon to be much more reliable when I need a product fast because they have access to so many sellers.
Share :