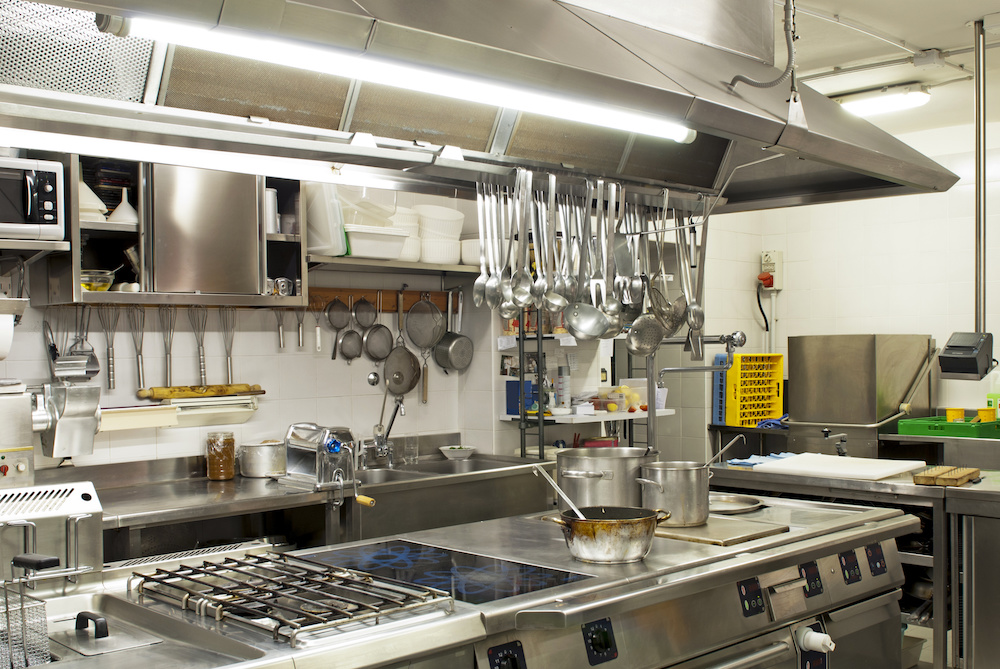 Minimum Requirements For Restaurant Plans
Preparing For Plan Submittal To State And Local Health Authorities
In order to receive a food service permit, state and local health authorities require plans and specifications for restaurants to include how venues are constructed and equipped. 
Minimum Construction Standards
In fact, all food establishments are required to have an initial inspection for permitting prior to opening to the public. Food establishments are encouraged to take advantage of "Voluntary Plan Reviews" prior to making major construction or remodeling plans to ensure their location is FDACS compliant.
Below are the minimum items that must be included within plans for their submittal to local health authorities for review and approval for construction:
Restaurant Layout
Project plans must be drawn to scale to size. This is especially true in the case of sanitation equipment, like sinks. Hand-washing, ware-washing, and food-washing sinks must be clearly denoted in the equipment floor plan. Food preparation sinks, such as fruits and vegetable washing or preparation sinks, are required in all food establishments. Other key elements that must be presented in floor layout plans include all entrances, exits, loading and unloading areas, and delivery docks.
Restaurant Equipment
The location of all food equipment, such as heat lamps and food processors, must be included in project floor plans. In submitted project proposals, each piece of equipment must be clearly labeled, marked, or identified. More specific details, regarding the quality of each item and electrical requirements, must be included in the plan's food equipment schedule. Food equipment schedules also include the make and model numbers and listing of equipment items that are classified for sanitation by an American National Standards Institute (ANSI) accredited certification program. Local Health Authorities may also request more information regarding equipment, such as requesting their inclusion elevation drawings.
Food Processing Equipment
All equipment and utensils utilized in food establishments must be made from safe and durable materials that are easy to clean and nonabsorbent. Equipment installed in high-traffic areas must give employees enough room to efficiently work without contaminating food or food preparation areas.
Equipment must have a clearance of at least 6 inches from the floor for cleaning purposes or be sealed to the floor. Similarly, counter mounted equipment must have a 4-inch clearance from the table for cleaning purposes. Appliances must be installed to manufacturers' specifications and according to national standards. Equipment to prevent contamination, such as sneeze guards, must be installed accordingly. Raw wood or pegboard surfaces are prohibited in food preparation or ware washing areas.
Food Handling
Food preparation, processing, walk-in refrigeration/freezer, garbage storage areas, rooms and toilet rooms must be constructed from walls and ceilings that are easy to clean surfaces. Installing utility lines and pipes on food establishment flooring is prohibited.
Exposed utility service lines or pipes must not obstruct or prevent cleaning of the walls and ceilings. Establishments must incorporate construction methods to prevent the entrance of insects or rodents. Techniques include: sealing walls, floors, and ceilings, installing tight fitting doors and windows, and protecting air vents.
Storage
The plans should show that food containers will be stored at least 6 inches above the floor to protect food from contamination, and to facilitate easy cleaning. Most food storage is in walk-in coolers and freezers which have their own issues relating to maintenance. However, metal pressurized beverage containers and food stored in waterproof containers does not need to be elevated if the food container at hand is not exposed to floor moisture.
Food must not be stored under exposed water or sewer lines. Additionally, separate storage areas should be designated for poisonous or toxic materials to prevent contamination of food, equipment, utensils, and linens.
Ventilation And Lighting

The ventilation schematic is a key element of restaurant plans. Included information for the cook line, mechanical hood, and ductwork ventilation must outline specifics like diffuser and filter features, exhaust locations, and air balance schedules.

Any equipment that produces steam, smoke, or vapors must be properly vented. Hood systems with fire suppression equipment are required by FDACS where grease-laden vapors are produced. Local building departments provide approval of all ventilation systems.
Also, retail food establishments and food processing areas must have adequate lighting. Lights installations, exposed to food, clean equipment, utensils, and clean linens are required to have additional shielding. Heat lamps must have a shield extending beyond the bulb so only the face of the bulb is exposed to the surrounding area.
Service Systems
Service systems such as electrical, lighting, plumbing, and sewage systems must be detailed in the project plans. A proper plumbing schedule will include the location of floor drains and sinks, water supply lines, overhead wastewater lines, wastewater line connections, hot water generating equipment with capacity and recovery rate, and backflow prevention. Similarly, finish schedules for each room including floors, walls, ceilings, and coved juncture bases must be detailed in the elevations floor plan and interior finish schedule.
Water Supply
Water supply must be clean, safe, and approved by a Department of Environmental Protection licensed water provider. Or, in the case of establishments with well water systems, establishments can gain approval through the state's Department of Health or their local County Health Department. Potable water supply must be protected from contamination. Non-potable water supply lines must be clearly marked on project plans so they are not mistaken for and connected to the potable water supply. The FDACS has established that fire sprinkler systems may use a non-potable water supply for operation.
Waste Water Disposal
All public/municipal sewage disposal systems are regulated by the Department of Environmental Protection, unless there is an onsite sewage disposal system for the establishment, in which, the system is regulated by the County Health Department. The State/County Department of Health or the local public sewerage system serving a given establishment may require grease traps and interceptors to prevent blockages.
Plumbing
All plumbing must be sized, installed, and maintained according to Florida plumbing code. If there is no air gap in a plumbing system, devices to prevent backflow are required at all fixtures. If hoses are used, the faucets must also have backflow prevention devices.
Toilet facilities and fixtures must also be installed according to the Florida building and plumbing code statutes. Toilet fixtures must be designed to be easily cleaned and in good repair. Toilet rooms must be fully enclosed, well light, highly ventilated, and have self-closing doors. Customers may only gain access to toilet rooms through designated pathways, and must avoid food preparation, processing, storage, or ware washing areas at all cost. Health authorities suggest the use of physical separation, such as floating walls, to prevent contamination. Carpeting is strictly prohibited in toilet rooms.
Sinks
Florida health codes require all sinks in food establishments to dispense water through a mixing valve. Sinks must also dispense hot and cold water under pressure. There are three types of sinks outlined by the FDACS, they include hand-washing sinks, ware washing sinks, and mop sinks.
Hand washing Sinks
Hand washing sinks must be easily accessible to employees in all food preparation, dispensing, processing, and ware washing areas. Hand washing sinks may also be located in, or adjacent to, toilet rooms. Hand soap and sanitary hand drying devices are required in all toilet rooms. Hand washing signs must be present at each hand-washing sink, reminding employees to wash their hands before returning to food related areas.
Ware Washing Sinks
All Florida food establishments are required to have at least one three-compartment sink in food preparation and processing areas. All three-compartment sinks and culinary sinks must be indirectly linked to a sewage outlet pipe. Ware washing sinks are mandated to have drain boards, utensil racks, or dish tables that are large enough to hold all soiled and cleaned items used in day-to-day operations. Clean and soiled utensils must be sufficiently separated. Mechanical ware washing machines must be equipped with temperature gauges and a data plate that is provided by the machine's manufacturer.
Mop Sinks
Mop sinks, or utility sinks, are mandatory in every Florida food establishment. The amount of mop sinks required per establishment is dependent on the size of the overall venue.
Flooring Materials & Drainage Issues

Food establishment floor surfaces must be smooth and easy to clean. Floor drains are necessary in all rooms receiving flood type cleaning and where normal operations release water, such as the kitchen or the restroom. Floors in these designated areas must be prepared to drain effectively and wall-to-floor junctures must be coved completely.
Waste Management
All garbage is required to be disposed of in a sanitary manner. Examples of FDACS approved waste management methods include utilizing leak proof trash containers and acquiring dumpsters with drain plugs and lids. Dumpsters, compactors, and grease containers must be placed on non-absorbent flooring at all times. Liquid waste from garbage or cleaning materials must be disposed of in a sewage disposal system.
Exterior
The area around food establishments must have walking and driving surfaces that are graded to prevent pooling of water. Grass and other vegetation must be kept mowed and maintained at all times. Doors that open to the exterior must be self-closing and tight fitting.
Restaurant Build-Out and Renovation Contractor in South Florida
If you are a restaurant owner interested in renovating your premises, a good piece of advice is to speak with an experience restaurant contractor to learn about the minimum construction standards required by state and local authorities.
Most general contractors, like Max Tripodi, will be happy to speak with you and answer your questions.
Share :