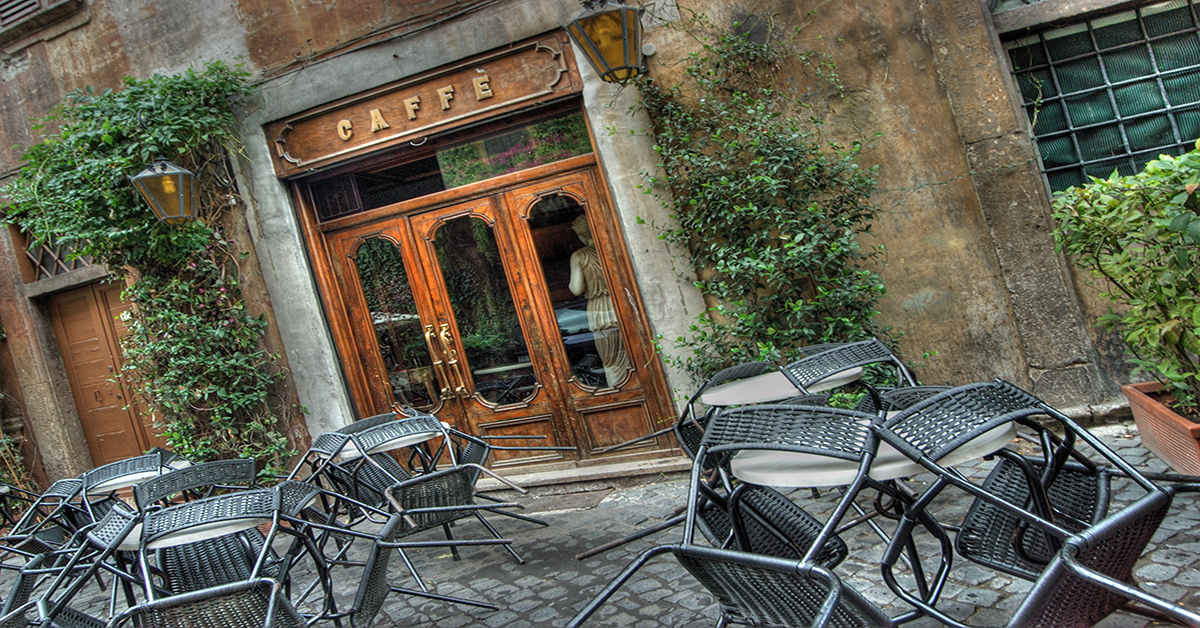 Outfitting Your Restaurant with The Best Exterior Door Hardware
What people want and expect when eating out at a restaurant today is very different than what people looked for in a dining experience just a decade ago. The customer mindset used to be focused solely on the type of meal and how much it cost. Today's guests want more than just a meal; they want an authentic culinary experience. They want to be cared for in a beautiful restaurant and experience its uniqueness the moment they walk through the door.
And, they're willing to pay for it.
The Design of Your Restaurant is Almost as Important as the Taste and Quality of the Food
The first impression your restaurant gives a guest dictates the direction of their entire dining experience. Before you have a chance to win them over with a delicious meal, you need to win them over with beautiful design. And, the very first opportunity to impress your guests is the door they open when they walk in.
The Best Door Hardware for the Perfect First Impression
The right hardware for your entry door will depend on the type of restaurant you're designing and building. A classic Italian restaurant is going to need different door hardware than a café or a steakhouse. The first step in finding your perfect door hardware is knowing your style and the feeling you want to give customers when they enter.
To help you through the process of finding the perfect door hardware for your restaurant, below are several of the best entry door hardware fixtures for both traditional and modern styles. Because I'm based in Florida, this list is focused on traditional and modern styles of architecture and cuisine that's popular in my neck of the woods. If you're looking for the best hardware for your business and you're located elsewhere, leave a comment in the comments section below and I'll steer you in the right direction.
Traditional Entryway Hardware
In Florida, especially the southern portion of the state, many of our restaurants serve up amazing Caribbean and Latin-inspired dishes that are infused with the culture of our diverse Hispanic population. These traditional restaurants bring an old-world feel to the culinary experience. It's common for the doors you walk through to have ornate hardware with curved lines and etchings and dark, worn-looking metals.
Here are some examples of traditional entryway hardware perfect for Florida's classic Hispanic-style restaurants:
Decorative Pewter Vintage Doorknob. This antique style doorknob and plate are beautiful against any door style – from traditional to minimalist – and give restaurant entry doors a welcoming focal point. It's made of cast iron so it's strong – a must for restaurant doors that are constantly being opened and closed. This particular knob, however, can be used as an exterior doorknob, but you'll want to add a deadbolt to the door as well to keep the entryway secure when the restaurant is closed.
Cast Iron Door Handles. When you open a heavy solid door by pulling on a cast iron door handle, you get an immediate sense that an authentic culinary experience is waiting for you on the other side. These antique cast iron door handles are the perfect hardware for a restaurant wanting to make a strong first impression with every guest that walks in.
Rustic Brown Cast Iron Door Pull Handle. Another cast-iron option, these rustic, old-world door handles are 9-inches long with beefy handles. Their curved detailing resembles the ornate style of traditional Latin-American style. These handles may just be the perfect pieces of hardware for bringing a restaurant's traditional culinary roots to life.
Antique Iron Door Knocker. You can add hardware accessories to your restaurant's entry door to add even more character. This antique knocker is a large, solid cast iron piece that will make your restaurant's entry door look like it's lived and survived for centuries.
Modern Entryway Hardware
Growing in popularity in southern Florida are beautiful, upscale restaurants putting a modern twist on beloved traditional Hispanic cuisine. These trendy restaurants are just as focused on the experience their guests enjoy as they are an amazing meal. And, owners are very aware that you don't get a second chance to make a first impression.
Every detail of these restaurants in our region is carefully considered with the entryway being an important way to create a first impression that pulls guests in.
Below are several examples of modern exterior door hardware that will make a statement in any of southern Florida's trendy, mainstream restaurants.
Steel Gate Handle Pull. To me, this pull handle feels like a modern take on large Spanish-style door handles. It's the perfect entryway hardware for heavy doors. It's clean lines and flat front give it a modern appeal without completely abandoning traditional styles.
Black Front Door Handle Set. This simple entry handle set is simple and sophisticated; perfect for a modern restaurant wanting to create both a trendy and comfortable atmosphere. It has a matte finish so it'll complement just about any entry door.
Sim Square Inactive Door Lever. Rather than a vertical door pull, this door lever is a sleek, modern and attractive addition to your restaurant's entryway. This lever is for push/pull doors only which I find desirable for more upscale environments. It comes in multiple finishes. Black is a good choice to keep the style modern. This is a beautiful lever – you can't go wrong.
Cane Bolt. You can add a cane bolt to your entry door to give you an additional layer of safety when your restaurant is closed as well as a small stylish detail to the door. This cane bolt is thin and sleek, giving a more modern look than other bolts.
Installing Exterior Door Hardware
Compared to other installation projects around your establishment, installing an exterior door handle, knob, lever or knocker is pretty straightforward. The biggest challenge you may run into is the hole in the door for a doorknob. If you're building new, you can choose any doorknob you want and pick a door that will accommodate it. But, if you're replacing the handle or knob of an existing exterior door, the hardware you select will need to fit the configuration of the door.
Installing a Door Handle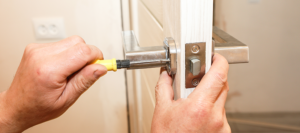 Door handles that don't require a large hole to accommodate a knob are the easiest to install. Let's take the Steel Gate Handle Pull mentioned above. This particular handle is meant to adhere to a barn door or large, thick wooden door. This install couldn't be easier. Just take the two wood screws that come with the handle. Line up your handle where you want it, and mark the location of the screws with a pencil. I'll usually push the tip of the screw into the door just to make an indent and better mark the location of the screw. Then, use your screwdriver and screw each end of the door handle in place. Make sure the screws are tight so the handle doesn't come loose over time.
Installing a Door Knob
As I mentioned above, you need to select a doorknob that lines up with the holes in your current door if you're replacing an existing knob. Once you've selected your knob, take both ends and slide them through the hole in the door so they join together in the middle. Make sure the exterior side of the knob is facing the exterior. Once both sides of the knob are joined together, use your screwdriver and your screws to secure the knob from both sides. A set of screws will come with the knob.
Custom Exterior Doors and Hardware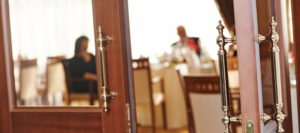 If you decide to design a custom entry door for your restaurant, the type of installation guidance above may not be enough. Custom work is a great investment for a restaurant working to stand out with a strong design statement. It also means, though, that your custom door hardware is best installed by a professional contractor. I'm sure you know by now that custom anything isn't cheap. Protect your investment and hire an experienced professional.
It's Time to Pick the Right Exterior Door Hardware for Your Restaurant
As you shop for the best hardware for our restaurant's entry door, send me any questions you have by leaving a message in the comments section below. Especially if you're in South Florida, please get in touch if you have questions about other hardware types or need any installation tips as you go. I'll be happy to answer any of your questions.
And, if you're looking for a professional contractor to take the task of restaurant renovation off your plate, let me know that, too. I'm here to help you find the best hardware and other products for your restaurant and bring your business design ideas to life.
Share :