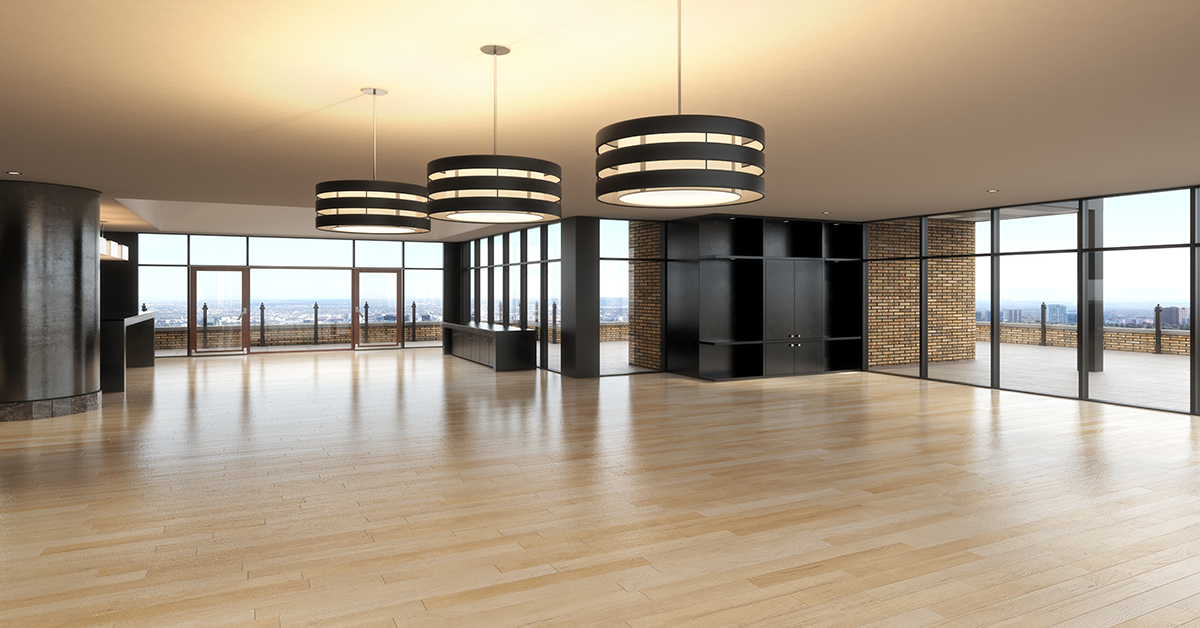 What to Look for In Office and Other Commercial Flooring Products
If you operate a sprawling and well-established office complex or commercial space with hundreds of employees and guests, your flooring needs are going to be much different than a small start-up firm with just a few team members. However big or small your facility, there are some standard considerations to think through when choosing the right commercial floor.
Here's What You Should Consider as You Start Your Search for the Right Flooring
Foot Traffic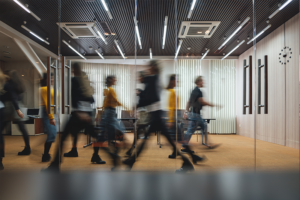 If your business includes high-traffic areas, you need to think about the service life and maintenance needs of any flooring you choose. We tend to think of commercial businesses and public areas like airports as having high foot-traffic, but large commercial office spaces may belong to the high-traffic area club as well. On average, a room is considered a high-traffic area if it has 1,000 people or more walking over its floor each day.
Flooring manufacturers typically rate their product's durability on a scale. There is no set industry scale, but many companies will rate floors on a 1 to 5 scale with 5 being the most durable. Understanding the level of durability of the flooring you choose compared to the foot traffic you expect is key to your ROI.
Maintenance
Even the most durable flooring material needs to be properly maintained. Do you run a professional office building or manage a healthcare center with patients coming in and out most of the day? The amount and level of cleaning needed to keep both clean vary greatly, and so will the time and care that go into maintaining your floor.
Different types of commercial flooring can have a wide range of maintenance requirements. How you'll care for the floor you choose needs to be a top priority before you buy.
Cost
The price tag is always a big consideration for any commercial and office purchase. There are so many price points depending on the type of floor you choose, so it usually isn't difficult to find a commercial floor for every budget. When it comes to cost, however, you typically get what you pay for with flooring. How durable a floor is and its potential maintenance needs drive price with the most high-performing floors topping the price list.
The Best Commercial and Office Floors for Your Space
There are countless flooring options to choose from, but here we'll focus on three of the most common flooring choices for commercial spaces – carpet tiles, laminate woods and ceramic tiles. Here's what you need to know to tell which is the best option for your business – and when you should walk away.
Carpet Tile
Carpet tiles are exactly like what they sound – pieces of carpet that can be laid down to create one carpeted area. The tiles can be laid in any configuration. Most come as a 12×12 square, but more and more manufacturers are developing tiles in the shapes of hexagons, diamonds and other non-traditional shapes. So, you have a ton of options that range from conservative to trendy and just about anything in between. Carpet tiles usually have a rubber backer so they're non-slip as well, making them a safe, durable and water-resistant flooring choice.
Maintenance Level: Moderate
Carpet tile maintenance is easy and not too time-consuming day-to-day. Regular vacuuming should be enough. Carpets can trap dirt, liquids and other debris, however, so plan on deeper cleanings from time-to-time. A mild carpet cleaner detergent and a soft rag can be used to remove stains or any liquids or debris that find their way into the carpet fibers. For heavier cleaning, simply lift the tiles and clean them with soap and water. Then, return them to the floor once they dry. You may also need a deep clean once or twice a year. A carpet shampooer is a good way to keep your carpet tiles looking good year after year.
Maintenance Tools You'll Need:
When to Consider Carpet Tiles: Carpet tiles can be a great flooring option for many commercial spaces. They're versatile – you have nearly endless style options. Like any other carpet, carpet tile durability ranges by manufacturer and by product. You can find a carpet tile with any level of durability that you need. Carpet tiles are also fairly easy to maintain and you can replace just one tile without replacing the entire floor if the carpet gets stained or worn out over time.
For offices with desks and chairs that sit on carpet tiles, office chair mats are a smart way to keep your tiles from getting damaged. The constant rolling of a desk chair back and forth over carpet will create wear and tear on the carpet tiles very quickly.
When to Say No: Carpet tiles aren't a great choice for commercial spaces with extremely high health standards, like hospitals or patient rooms in health centers that need to be sterilized or heavily cleaned on a daily basis. Stains that go beyond the occasional coffee spill are likely too much for a carpet tile and you'll end up replacing tiles regularly.
Laminate Wood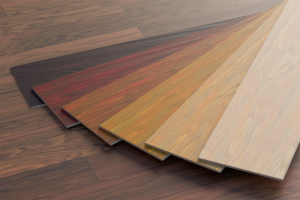 Commercial-grade laminate wood flooring is a popular choice for businesses wanting a more stylish look than traditional carpet without the expense and maintenance of a wood floor. Laminate doesn't need a lot of care, is easy to clean, and is a flooring material that can be made to stand up well to heavy foot traffic. The beauty of wood laminate is in the number of authentic-looking wood-type choices you have. From light oak to a deep cherry, and from wide planks to herringbone, any wood type, style and finish can be artfully mimicked with a quality laminate.
Maintenance Level: Moderate to Potentially High
Regular sweeping of your laminate wood floor will keep dirt and dust at bay. A mild floor soap and a mop every few days will keep heavier dirt from building up. And, a steam mop is a third way to get a thorough clean and a great tool to sterilize your floor every week or so.
Maintenance Tools You'll Need:
Laminate wood floor maintenance can go from moderate to high if you experience one or more of the problems these floors are known to experience. Because laminate wood floors are floating planks, they are susceptible to the expansion and contraction that happens as the temperature fluctuates. You may see peaks (planks rising as the floor expands) or gaps (spaces between planks). When this happens, you'll need a few tools to repair your floor and return it to normal.
For a peaking floor, remove the trim with a crowbar. Cut out a small section with a miter saw – just enough to allow more space for your laminate to expand. Then, replace the trim and nail it in place.
Repair Tools You May Need:
For gaps in your floor, use what's called a Gap Fixer – a simple tool designed specifically to eliminate the gaps between floating laminate floor planks. Simply lay the gap fixer over the floor plank and hammer the floor back in place.
Repair Tool You May Need:
When to Consider Laminate Wood: Because laminate is easy-to-clean, commercial spaces and offices with heavy foot traffic and moderate to high health standards to maintain are great candidates for high-quality wood laminates. Places include professional service firms, yoga studios, hair salons and other spa service businesses, clothing and apparel storefronts, and more.
If you'll have furniture sliding across the laminate floor, felt furniture pads are a simple way to protect the floor from scratches. Laminate is a sturdy flooring choice but protecting it from furniture that could scuff or scratch the surface will keep it looking like new longer.
When to Say No: Like carpet, laminate woods aren't the best choice for hospitals and health centers that need to sterilize surfaces with harsh chemicals to prevent the spread of germs. The same goes for daycare centers, restaurants or other similar businesses that have the potential to spread bacteria and risk illness.
Ceramic Tile
Ceramic tile is one of the most common commercial flooring choices for today's businesses and facilities – and for good reason. Ceramic's hard, non-porous surface is easy to clean and sterilize. You can find ceramic tiles in countless sizes, colors, textures and styles. Ceramic can also mimic the look of just about any other flooring material – everything from classic Italian marble to reclaimed hardwoods.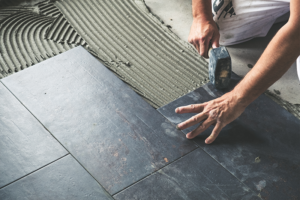 One draw-back to ceramic is how slippery the tiles can get when wet. Choosing a textured tile will help reduce the risk of falls. Most water that ends up on a floor is tracked in from the outside. So, simply laying a floor mat at each building entrance will make a ceramic tile floor much safer.
If you do decide to go with ceramic tiles for your office or any other space, hire an experienced, professional commercial contractor to do the work. Failing to install tiles properly can lead to sagging floors, tile cracks and other damage.
Maintenance Level: Low
Once ceramic tiles are installed, they're pretty easy to maintain. Regularly sweeping and mopping floors is the best way to keep tiles and grout from getting too dirty. Use an absorbent mop so you're actually pulling up the dirt rather than pushing it into the grout line. Otherwise, your grout lines will look dirty over time. Use a good grout cleaner to keep the grout looking new. Finally, after you mop and clean the grout, dry the floor with a microfiber dry mop to prevent watermarks on the tile.
Maintenance Tools You'll Need:
When to Consider Ceramic Tile
If your organization is in charge of protecting and maintaining the health and safety of those entering and exiting your building, ceramic tile is your best line of flooring defense against the spread of illness-causing bacteria.  If you operate a hospital, healthcare facility, school, daycare, or any other type of building with heavy foot traffic and strict health codes, ceramic tile is the clear choice.
When to Say No. It's hard to find a situation where ceramic tile won't work. Because it's easy to clean and durable, it's going to work well in most commercial environments. It may not be the best choice, however, if you're looking to create an aesthetic in your space that's more relaxed or comfortable. Ceramic tile can give a building a sterile, cold feel. If you want to create a softer, more familiar feel, ceramic tile may not be the right choice.
Choosing the Best Commercial Floor for Your Business
With these tips in mind, it's time to choose the best commercial flooring for your business. Talk with an experienced commercial contractor to learn more about the right flooring options for your particular building. Send us your questions as you plan your project. We're here to help you create the perfect floor for your commercial space.
Share :