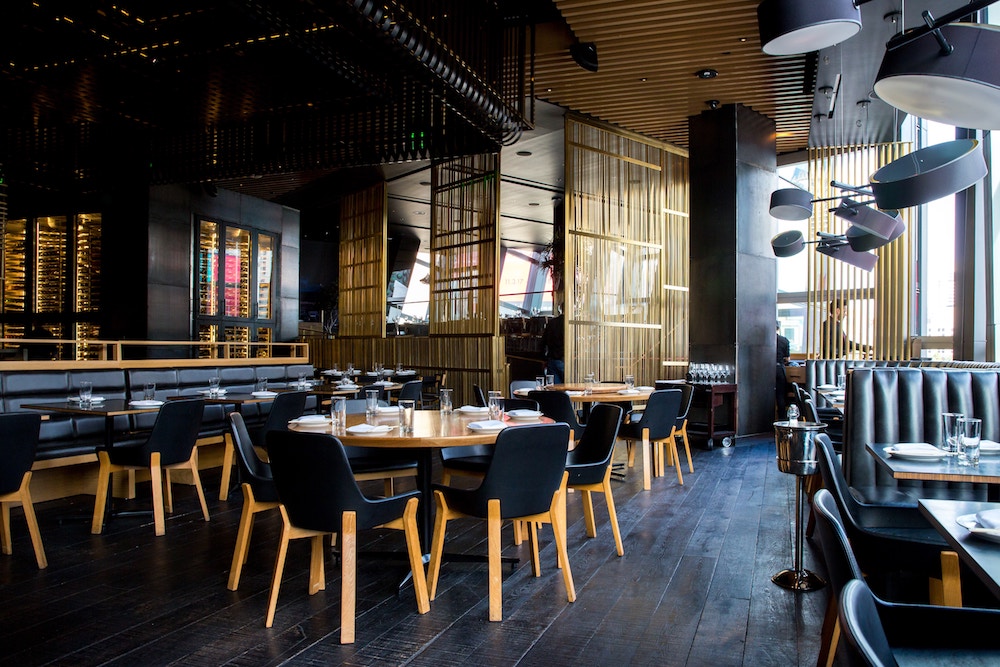 5 Factors Guiding Restaurant Design
For the first time in years, Americans are spending more money on eating out than on groceries for food at home. This shift in spending has made an enormous impact on the U.S. design and construction industry.  Now more than ever, business owners have focused on their restaurant's design and its overall impact on their location's dining experience. Here are five essential factors that business owners should consider while designing their restaurant's layout.
1. Stand out in your center – Make a statement & attract customers to your venue
Lifestyle centers, or shopping centers with a variety of stores and restaurants, set out to create walkable mini-communities with distinct, architectural styles. Frequently, center developers do not allow much deviation in store design to maintain the overall look of the center. However, when it comes to restaurants located in shopping centers, developers encourage business owners to make their venues stand out.
This leniency in developer design protocol in centered around the idea that restaurants have the potential to anchor a lifestyle shopping center. Restaurants play an instrumental role in the success of shopping centers. Therefore it is imperative business owners take full advantage of available design options. By incorporating exterior design elements, like verandas and outdoor seating, business owners can easily elevate their dining experiences and attract more customers to their food establishment.
2. Owners & Chefs offer great perspective in curating project design
Chefs and owners are getting increasingly involved in the restaurant design process. With the increase in competition between restaurants to attract more customers, it is imperative that each restaurant offers its own unique dining experience.
Chef and owner involvement can be a double-edged sword for building teams. Experienced owners know the customers they are targeting, and can provide their designer and general contractor with a great deal of information for project plans. Similarly, chefs are in tune with the importance of design complementing a culinary experience. Together owner and chef design teams can create fine-tuned, intimate dining settings that extend beyond materials, colors, and finishes.
3. Do not settle – Casual dining can be still be quality dining
In 2016, the National Restaurant Association polled roughly 1,500 members of the American Culinary Institute and found that one of the most popular concepts in restaurant design was "chef-driven, fast-casual" dining.
Some restaurant owners are extending their brands down market to meet the growing demand of Americans who eat out. However, targeting a wider population does not coincide with sacrificing quality in dining experiences. When it comes to restaurant design, it is important that designers and owners do not ignore the "experience." Therefore, when creating a design layout for a casual-dining restaurant, owners should stay away from template designs and stick to concepts that fit their brand, and their brand only.
4. Technology is your friend
Now more than ever, restaurateurs and their renovation teams are heavily relying on technology to create new experiences for diners. Elements, such as lighting fixtures and acoustic panels, have come to the forefront in elevating restaurant design.  Investments in technology give owners that ability to curate the exact atmosphere they want at to offer to customers at different times of day, enhancing the overall experience of their restaurant.
5. Incorporate artwork to add an element of authenticity
Although dining across America has become a more casual experience overall, customers still want to be wowed when they eat out. Recently, restaurateurs have started incorporating more art into their venues to meet the expectations of their customers.
The inclusion of paintings, murals, photographs, and other wall décor adds to a restaurant's sense of place and authenticity. Restaurant owners have also utilized artwork to incorporate the surrounding community into their location. By hiring local artists and utilizing local memorabilia to decorate a restaurant's interior, restaurant owners have the chance to show that they care about both their customer's experience and their community.
Restaurant Build-Out and Renovation Contractor in South Florida
If you are a business owner interested in renovating or building-out your own restaurant, or if you have questions regarding commercial contracting, renovation, or construction, please contact RCA Contractors Inc.today.
Share :