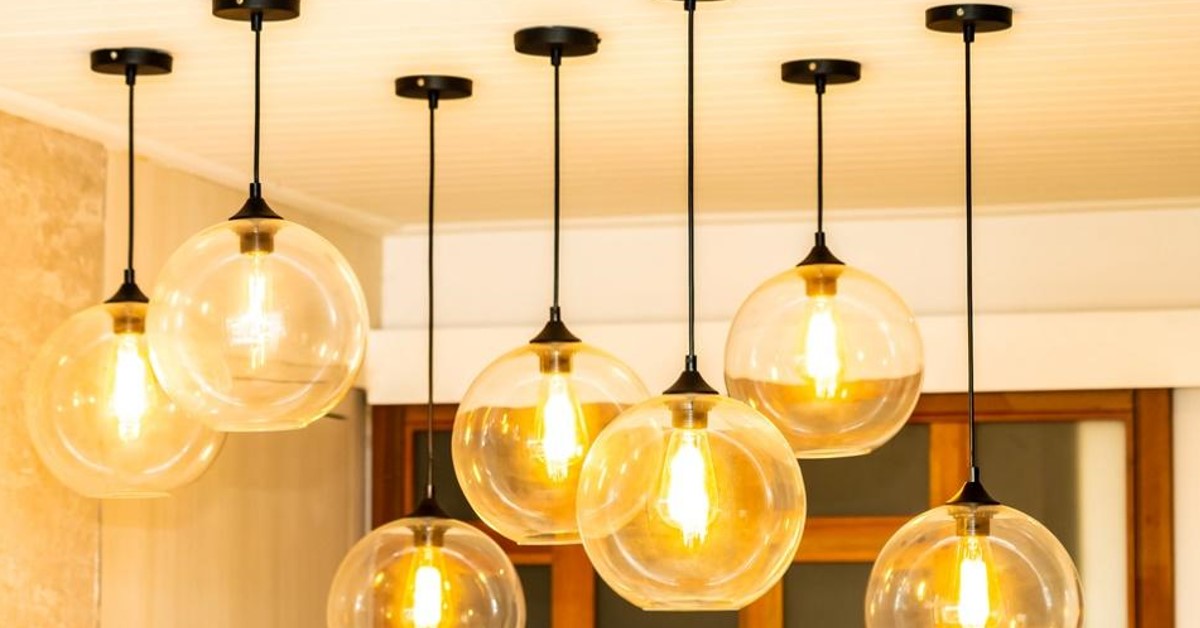 3 of the Best Restaurant Ceiling Hanging Lights
Opening a restaurant is indeed a dream come true. First, you work for so many years to polish your culinary skills, then find a place that is ideal for the kind of restaurant you want to open, and finally, add in all the furniture and fixtures that define the aesthetics of your restaurant.
Lighting is one of the significant furnishings that will define the aesthetic as well as the ambiance of the place. After working so long and hard for your dream, you do not want to end up purchasing items that are just mediocre. So, if you are looking for the right type of lighting for your place, you have come to the right article.
This article presents you with the best three restaurant ceiling hanging lights on the market. Moreover, we have included a guide to restaurant lighting and how to choose the ideal one to make deciding easy for you. Accent lighting is great for creating a more romantic interior design when you may be lacking in the natural light department. So, let's begin!
QUICK VIEW
Maojisheng's Ceiling Hanging Lights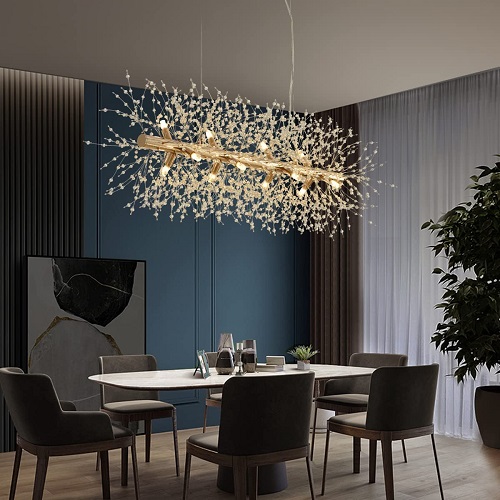 This fireworks light chandelier has an excellent design. The tranquil stars flash with a dazzling light, formed like a glowing vision. The dull light and shadow make it the ideal lighting for individuals going for a romantic vibe for their restaurant. It also works well as a focal point for the dining room.
It's made up of crystal threads fitted to a sleek fold base. These chandelier ceiling light fixtures may provide a glam touch to your space. Furthermore, the unit uses 12 dimmable and CE-certified G9 warm LED light bulbs.
If you use dimmable lights and a matching dimmer switch, you can dim the rustic chandelier. You will love the clear crystals. They are stunning and ideal for use in a variety of indoor settings. The dimensions of the unit are 39.4″ L x 17.3″ W x 17.3″ H and it is adjustable in height from 11.8″ to 47.2″.
Furthermore, the unit is pretty easy to install. All the hardware is included. All you need to do is follow the instructions and put on this spectacular furnishing to give light to your restaurant.
Pros
Offers dull light for a romantic lighting ambiance
Easy to install
Comes with beautiful crystal threads
You can dim the chandelier if you use dimmable lights
Cons
Bulbs and dimmer switch not included
Instructions are a bit unclear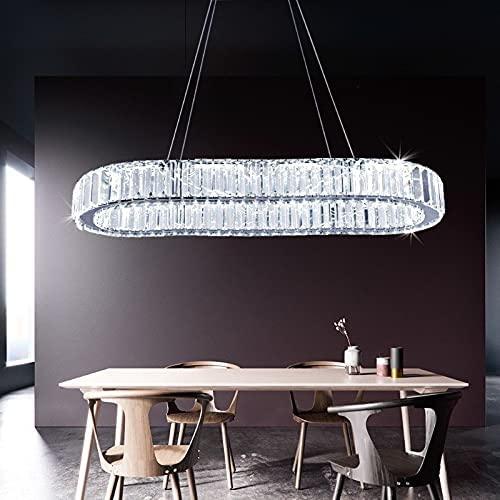 Are you looking for sleek, elegant, yet grandiose hanging lights for your restaurant? If yes, then the VETRULUS' Ceiling Hanging Light is the perfect one for you. The almost mid century modern unit can be defined as a modern interior design with laser-cut sharp corners. One aspect we noticed right away was how phenomenal the lights were under light refraction.
The unit is 27.5 x 9.8 x 3 inches in dimensions. The best thing is that you can easily adjust the unit's height anywhere from 19.7 inches to 42.2 inches. Furthermore, the furnishing is easy to install. All of the crystals are pre-attached, so all you really have to do is just mount it. The hardware and instructional manual are included in the package.
Lastly, you can use them for both warm and cool warm bulbs. However, there was one feature we wished it had; a dimmable setting. Apart from that, the unit is perfect for any restaurant setting and like our first light fixture option also acts as an amazing focal point.
Pros
Elegant lighting
Ideal under light refraction
Adjustable height
All the crystals are pre-attached
Can be used for both warm and cool settings
Cons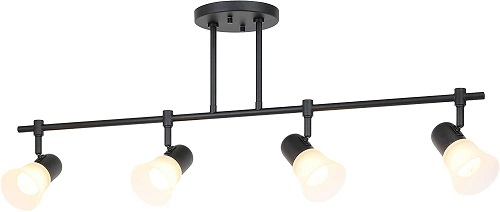 Are you going for a classical look in your new place? If yes, then use these four kitchen track light option by XiNBEi. This fixture modernizes the farmhouse theme with a matte black finish and frosted glass.
The pivoting track heads allow you to get multi-directional track lighting in your place to intelligently focus them where they are required. This will help to offer the best lighting experience in any space.
Moreover, we were impressed by how quickly one could mount this track lighting to the ceiling. The unit comes with all the hardware and the mounting plate, so all you have to do is screw it all in, and you are good to go.
The unit is 36.125 x 12.75 x 6.25 in dimensions. Keep in mind that this unit comes in two configurations; one with four lights while the other comes with three. So, make sure to select them carefully before purchasing.
Moreover, the best thing about this track lighting model is that the light fixture is dimmable. If you have compatible dimmable bulk and switch, you are good to go!
This unit's only flaw is that it does not come with bulbs. So you would need to purchase those yourself.
Pros
Elegant unit
Brightens up the room
Ideal if you are going for a classical look
Easy to install
Cons
Buyer's Guide for the Best Hanging Light
Go through the best kinds of restaurant hanging lights mentioned above because it is vital to understand how to find the best hanging light suited for your restaurant. Now, let's discuss in detail all of the essential aspects you need to consider before getting restaurant hanging lights:
Aesthetics
The first aspect that you need to think about when choosing accent lighting is the aesthetics of the place. Are you doing it for a lively vibe? Do you want warm lights in your business, or do you want cool ones? Consider these most important questions before purchasing a hanging light for your restaurant.
Lifespan
You need to find a light source with a suitable life duration. Typically, most lighting fixtures have a lifespan of 30000 hours or more. So, try to find a light fixture with a similar lifespan for your restaurant's dining room.
Dimmer Switches
Another thing to consider is whether you want dimmable lights in your dining room or not. If you want the former, you need to think of installing a dimmer switch at your restaurant. However, this alone won't guarantee getting dimmable lights for ambient lighting.
While purchasing bar lighting or dining room lights for your restaurant, you need to ensure that the light fixture you are going for is compatible with dimmable bulbs and switches. Therefore, you need to closely evaluate and find one that comes with a dimmable setting, like Maojisheng's fireworks light chandelier.
Installation Process
You need to purchase lights that are easy to install in the space and when there are other essential elements. As you might have seen in the reviews above, some products require you to tweak the wiring to set the ceiling lights.
So, if you do not want to go for this sort of hustle, purchase a hanging light that comes with pre-attached pieces and an instructional manual. You should also look for units that come with all of the mounting hardware so you do not have to spend extra money on purchasing the equipment.
FAQs
What kind of lighting is best for a restaurant?
Most professionals prefer ambient lighting. This type of light creates warmth as well as depth in the area. Besides, the illumination does not have any glare. Thus, ambient lighting would be perfect whether you are thinking of a restaurant, bar, or brewery.
How do I know what size ceiling light to buy?
Generally, experts recommend that you need to purchase lights that are 3 inches tall for each foot between the ceiling and the floor. So, for example, if the top is 11 feet in height, your light needs to be 33 inches tall (11 x 3 = 33).
How do I know what light fixture to buy?
You need to think about the amount of light you need in the room. This will depend on the bulb type as well as the wattage limit. So, make sure to check both of these aspects out before buying.
Overall, people use incandescent, fluorescent, halogen, LED, and xenon for lighting options.
Conclusion
Finding the right kind of lights for your place is essential to set the ambiance of your restaurant. Lighting will either make your area Instagram-able, or it would make it look ordinary, which no one wants.
So, you really need to pay attention to the type of lighting you need in your place. If you are thinking of hanging lights, consider one of the three diverse options; a rustic chandelier, a rotatable lighting fixture, and a sophisticated oval hanging.
When purchasing a hanging light or other light fixture, check the durability, dimmability, and additional features that the lighting fixture embraces.
Share :