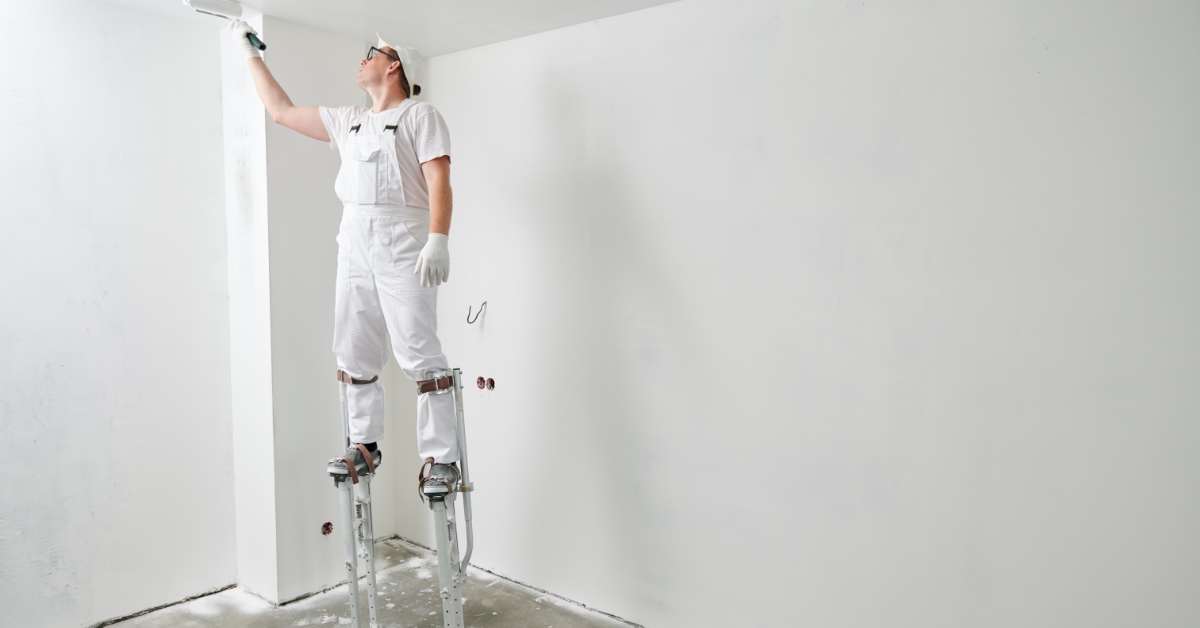 Five of The Best Drywall Stilts You Can Find
If you've been hanging drywall, painting, or plastering for long enough, you'll begin to realize that high work of any kind can be difficult with just a ladder. Drywall stilts make life eminently easier not only in terms of comfort and ease but also in terms of time and energy.
You only have to experience hanging drywall at a height of over 10 feet one time, before you realize climbing up and down a ladder and moving it from place to place is exhausting and time-consuming. Doing any kind of contracting or do-it-yourself work without the proper equipment is ill-advised, and if you're working at tall heights for extended periods, a set of stilts is almost mandatory.
Drywall stilts also can come in handy when it comes to tight spaces. Ladders and moveable platforms can have large footprint areas and can be cumbersome to maneuver when space is at a premium. A good pair of drywall stilts can cut down on space and give you the room you need to get stuff done.
So, what are you looking for in a good pair of stilts? Generally speaking, you want to find a set that is adjustable, comparable to your foot size, and constructed of lightweight material. You'll also want to make sure it can handle not only your weight load but also the weight load of whatever equipment or product you're using.
To that end, I offer my picks for the five best drywall stilts I've encountered.
My 5 Favorite Drywall Stilts
These Yescom Professional Grade Drywall Stilts are adjustable from 24″ to 40″ to accommodate the correct height, and can hold up to 227 pounds. They feature dual-action springs that allow extra flexibility for the user. The soles are made of a premium rubber material that are skid resistant and help grip the ground. The heel bracket has 3 positions so you can adjust it to perfectly fit your foot and prevent slipping. The stilts themselves are made from a lightweight and sturdy aluminum alloy that are durable and easy to move. The Yescom Professional Grade Drywall Stilts also feature a leg strap that's adjustable with a metal buckle for extra protection. They work perfectly for painting and plastering jobs!
The Pentagon "Tall Guyz" Drywall Stilts are another reliable option for plastering and painting projects. They adjust height from 18″ to 30″ and can hold up to 228 pounds. These stilts come in a fun blue color, and also have adjustable heel plates to fit the user's foot size perfectly. The foot straps also have self locking metal buckles, so you don't have to worry about them coming undone. They weigh around 15 pounds and are easy to lift when walking. The Pentagon Drywall Stilts also feature Premium Grade Rubber soles to prevent slipping. You can also purchase additional leg straps and attach them if needed.
These GypTool Pro Drywall Stilts are made from lightweight, high-grade aluminum that is sturdy and durable. No tools are required to adjust the height, and they range from 36″ to 48″ while being able to hold 225 pounds. The braces are fully adjustable and can accommodate any user. They work great for painting, plastering, wiring, and more. The GypTool Pro Drywall Stilts also feature dual-action springs to increase flexibility.
The Blackhorse-Racing Adjustable Drywall Stilts come in a variety of sizes to fit whatever projects you're working on. They're available in 15″-23″, 18″-30″, 24″-40″, and 48″-64″. No tools are needed to adjust the stilts, and they can be fitted to accommodate any user. The soles are made of skid-resistant premium rubber that are extra durable and allow easy mobility and motion. These stilts are also made from a lightweight, aluminum-alloy material that is strong and sturdy. The Blackhorse-Racing Drywall stilts can hold up to around 250 pounds at capacity. They feature leg straps and foot straps to ensure that you are securely in place when using them.
These stilts extend from 15″-23″ and are perfect if you're working on a project with lower ceilings. Some stilts can be too tall and cause you have to bend over while working, but these are great at a shorter height. They are made out of durable aluminum-alloy material that is strong and won't break easily – but is lightweight to walk around in. Each stilt comes with a leg strap and a foot strap, but other straps can be added on or replaced if needed. They also come with a helpful instruction booklet that explains how to assemble and use the stilts.
What Should You Do Now?
If you've never used drywall stilts before, remember; they're just like any other tool: if you don't use them properly, they can be dangerous. You'll want to go easy at first–start at the lowest height and get a feel for how they work. Make sure you have someone nearby if you're a first-timer, just to make sure you don't get hurt. At first, you'll probably wonder how people ever get used to them. After a while, though, walking around with them on will become second nature.
If you have questions as you decide which drywall stilts are right for you, send me your questions using the comments section below. I'm here and happy to help.
Good luck with your next home renovation project!
---
One of the reasons we recommend products on Amazon is that oftentimes the product you need is either out of stock or on backorder from the manufacturer or third-party site. I find Amazon to be much more reliable when I need a product fast because they have access to so many sellers.
---
Share :