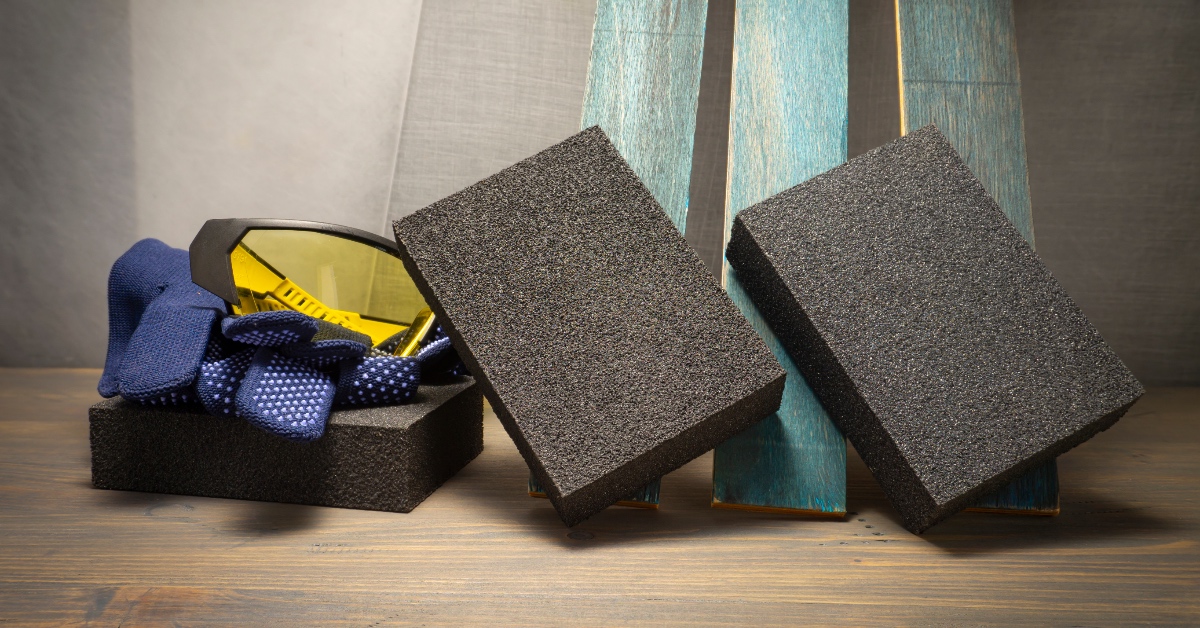 Drywall Sanding Sponges For Detailed Sanding
The brilliant idea to take a section of sandpaper and attach it to a firm, yet pliable sponge is probably one of the greatest contributions to the construction and contracting industries in world history.
The term "sanding sponge," in its modern use, is a bit of a misnomer. Most of today's sanding sponges aren't really sponges at all but are instead foam blocks coated in specific grits of sandpaper. Sanding blocks (wooden blocks with handles) have been around since the early 1800s, but sanding sponges have largely taken over. This is because they can be used wet or dry and their superior flexibility allows you to obtain a consistent finish in corners and hard-to-reach tight spaces. Sanding sponges come in a variety of shapes, sizes, and sandpaper grits, but for the most part, square and rectangular sponges will be fine for 90 percent of sanding projects.
Large sanding sponges are great for sanding walls and ceilings and other larger areas that need a smooth finish. Smaller sanding sponges are ideal for detailed work and areas that need precise sanding.
Are you looking for a rundown on drywall sanding tips from a pro? Check out this article!
Five of the Best Sanding Sponges for Detailed Sanding Projects

The Johnson Abrasives Sanding Sponges showcase a dual-angle that is helpful to reach small corners without scuffing the wall.
These dual angles have a dual grit feature that allows you to sand in two different ways – medium grit on one side and a fine grit on the other. These sponges measure in at 5″ x 3″ x 1″, so they are big enough for a comfortable grip while still being able to control the sanding. They are durable and can be used for any drywall project.
If you're looking to smooth joint compounds, the 3M drywall sanding sponge is a great choice. It can be used for sanding and smoothing and is flexible for different materials.
This sanding sponge features dual grit sides, medium sanding for removing bumps and fine sanding for smoothing. The sponge is a smaller size, measuring at 2.25″ x 2.75″ x 4.63″, and is helpful when sanding small spots. It's flexible and reusable.
The LANHU Store Sanding Blocks come in a pack of 5 with different grit levels; 60#, 120#, 240#, 320#, 400#. They are flexible and for all-purpose uses.
These sponges can be used wet or dry on wood, metal, plastic, and drywall. The LANHU sponges are also relatively small, 3.78″ x 2.78″ x 1″
The Onarway Store Sanding Sponges are made from high-quality corundum material and durable sponges. They will last a while and are reusable. The sponges come in six different specifications; 60#, 80#, 100#, 120#, 180#, and 200# grits. The smaller numbers have coarser grits, and the larger numbers work for smoothing.
Onarway sponges also can be used wet or dry, and are easy to clean. They measure in at approximately 3.94″ x 2.76″ x 0.98″.
The Auerllcy Sanding Sponges come in four different grits; 60, 80, 120, 220 and coarse, medium, fine, and superfine. The grit sizes are printed onto the sponge so they are easy to differentiate when using.
The high-density sponge material is fully washable and reusable and can be used wet or dry. It can be used to sand down and smooth any irregular surface.
What Should You Do Now?
There's something to be said for a good sanding sponge. In addition to their flexibility, ease of use, and wet/dry ability, they're also about 1000 percent more comfortable than traditional sanding blocks and can allow you to sand for longer since your hands won't experience the same level of fatigue as they would with traditional sanding blocks.
Once you've decided on the sanding sponge that's right for your project, I always suggest getting a few grit sizes. If you really want a smooth finish, start with a coarser grit and work your way down to the finer grits. This is especially true if you're applying several coats of finish.
If you have questions as you decide which drywall sanding sponge is right for you, send me your questions using the comments section below. I'm here and happy to help.
Good luck with your next sanding project!
---
One of the reasons we recommend products on Amazon is that oftentimes the product you need is either out of stock or on backorder from the manufacturer or third-party site. I find Amazon to be much more reliable when I need a product fast because they have access to so many sellers.
Share :