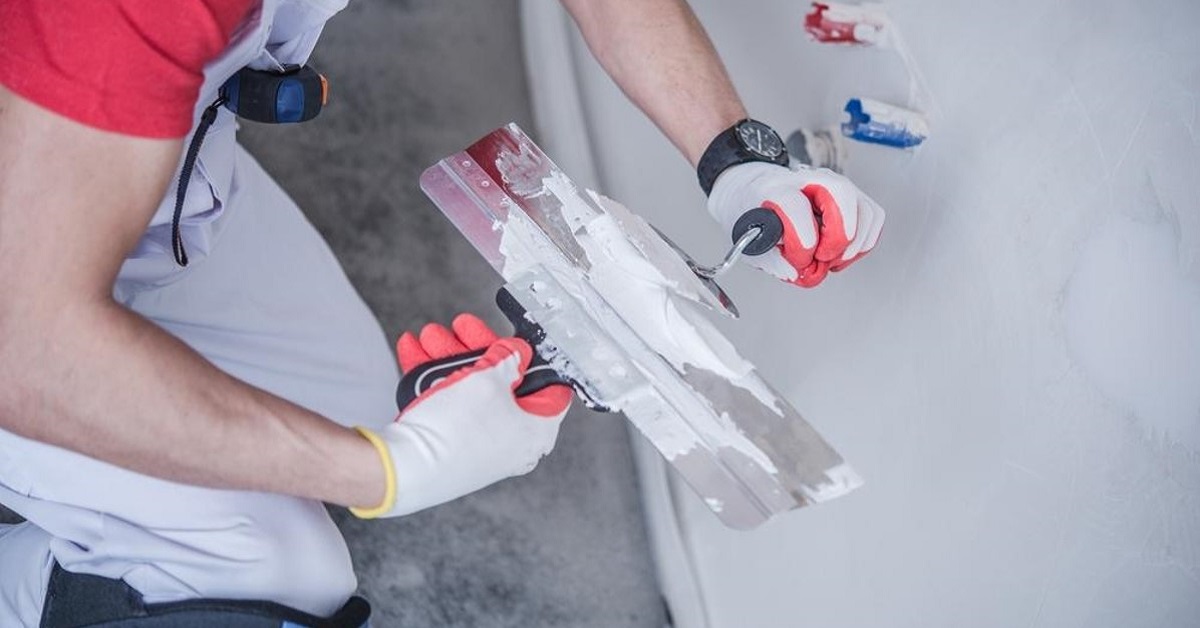 Best Fast Drying Drywall Mud
You've likely researched fast drying drywall mud if you're considering doing a drywall project. You could be taping the drywall seams, installing the corner beads, or perhaps working on patch repair on your drywall, even fixing cracks.
Drywall mud takes some time to dry, especially when applying multiple coats. The type of drywall mud will also affect the time it takes to allow it for the next coat or final coat. Therefore, a fast drying drywall mud can make a huge difference.
No matter what drywall project you're working on, our list of the best fast-drying drywall mud will help you immensely in your work. And most importantly, none of these products compromise quality and give an efficient result for any drywall panel.
Quick View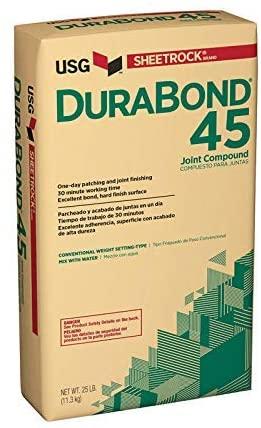 USG Durabond 45 Min powder is our budget pick that can be used on both indoor and outdoor surfaces. This mud creates a sturdy surface that is ready to be used for the following step.
DURABOND joint compound is one of the fastest drying drywall mud. It takes about 30 to 80 minutes to set, and when dried, the material forms a hard, granular surface.
If you're in a highly humid area, you'll be pleased to know that this drywall compound keeps out humidity. This makes it an ideal choice for fixing roofs. As it dries after application, it will not shrink. The finished joint will be dry on the day you put it on. If you wish to embellish the surface, you can do that the next day. It stands out from other brands with a proven track record of trust and reliability.
It offers a strong bond that is ideal for filling large areas. Don't be reluctant to invest in this product to improve the soundproofing of your walls.
However, be advised that the product is a powder that requires mixing. This is why it's classified under the category of chemically setting substances. When combined with water, this powder undergoes a chemical reaction, resulting in the drywall mud. This could be a significant issue for non-professionals as well as beginners.
Therefore, we recommend that you read the manufacturer's directions attentively.
Pros
Resists shrinkage after drying
Speedy drying ability (30-80 minutes)
Perfect for large-scale projects and storage
Superior bond
Resistance to humidity
Cons
It is a powder that requires mixing; therefore, not the best choice for beginners and non-professionals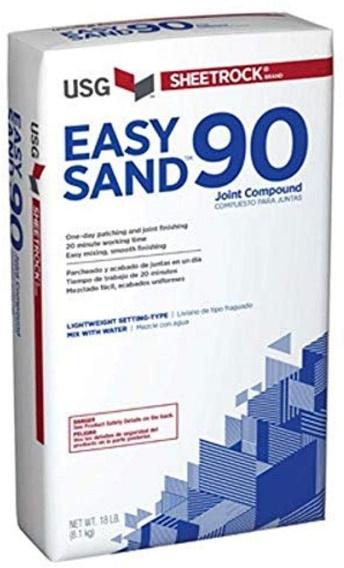 Our next choice is another one that falls into the category of chemical setting. It also mixes with water to create a chemical reaction. The US Gypsum Easy Sand Joint compound can be used for interior and exterior drywall.
It allows for same-day drywall finishing and decoration for the following day. That's precisely what you'll expect from a fast drying drywall mud.
After application to the surface, the mud will take between 85-130 minutes to set. Compared to standard-setting substances, this one weighs 25 percent less. This makes it easy to handle and gives smooth and flawless finishing.
Since it's not prone to extreme humidity, it's ideal for filling heavy containers. This joint compound for drywall can provide a stronger bond and has a lower shrinkage. It can be used to join gypsum panel boards to block sound or cement surfaces. It is excellent to aid in making a smooth finish on the walls.
Furthermore, you can use this to fill in the interior ceilings and concrete. Also, finishing joints on exterior ceilings is another task that can be fulfilled with this mud.
Pros
All-purpose joint compound for drywall
Astonishing resistance to humidity
Excellent bond quality and low shrinkage
Very durable and simple to use
Ideal for outdoor gypsum ceilings
and interior Gypsum panels
Cons
It is in powder form, not ready to use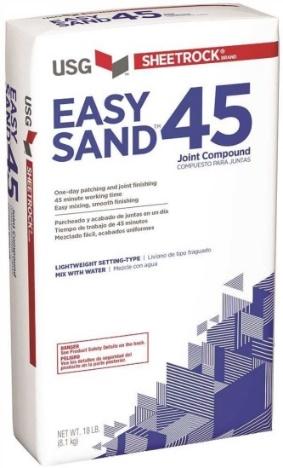 The final product on our list is the US Gypsum's 18lb joint compound, ideal for painting sealants and supplies caulk. The product works well for other drywall projects as well.
All you need to do is mix the powder with water, find the right density, and work. The drywall mud dries within 45 minutes. This is why this drywall mud works perfectly for small jobs.
You can use the joint compound for both interior and exterior wall projects. Whether it's fixing holes, cracks, or even texturing, whatever the task, it can be easily achieved with this drywall mud.
Pros
Dries quickly (45 minutes)
Ideal for painting sealants and supplies caulk
Works for both interior and exterior walls
Best for small jobs
Cons
Requires mixing
Not for beginners
In some cases (like multiple/thicker coating) will take longer than 45 minutes to dry
Pre-Mixed vs Powder Joint Compound
Drywall mud, commonly known as joint compound, made of gypsum and other materials, is used for drywall joint finish and new drywall installation corners. It can also be used for fixing holes and cracks.
Drywall mud or joint compound has many different types; however, it comes in two forms: Pre-Mixed Wet Joint Compound and Dry Powder Joint Compound.
Pre-Mixed Wet Joint Compound
As the name suggests, the pre-mixed joint compound is ready-to-use. The mud is already mixed with water and offers excellent consistency, but you always have the option to adjust it according to your requirement. It's mostly suited for and used by DIYers. The pre-mixed joint compound comes in different sizes of buckets.
Pros
Pre-mixed by professionals with the knowledge
Ideal for quick jobs
Mud mixer is not required
Cons
It gets wasted because it can't be stored for long
Dries faster
Dry Powder Joint Compound
This is basically a dry powder, and you need to mix it yourself with water to make it into a drywall mud. Mostly comes in cement bags instead of buckets. You'll have to work and define your project base to mix the right amount of powder and water to achieve the perfect density. This drywall mud is mainly used for large projects, primarily by professionals.
Pros
Less expensive than premixed joint compound
Easily stored, which prevents mold
Cons
Not ideal for beginners
Requires experience
Requires mud mixer
Buyer's Guide
Choosing the appropriate drywall mud to repair cracks, tape, or texturing your projects will benefit you immensely. Here's what you need to know and consider before buying:
Define Your Purpose of Use
With the correct drywall mud, you'll be able to reach your goals quicker and more efficiently. To do this, you need to determine the exact issue you are faced with, so you can find the ideal product.
For example, it is for refilling the holes due to the screws, or you would like to give your walls a new look. It's also essential to be aware of the product you're planning to buy. This will provide plenty of good sense to eliminate the issue on the spot. After the first step is complete, you can define certain types of drywall mud for ease of use.
Ease of Use
A product that is not usable at a higher price is not as worth it as a basic doer. If you choose to buy premixed or raw mud, both are likely to be simple to use. If you think about your personal circumstances, it's easier to choose.
Product Weight
The product's weight is another crucial aspect that you should not ignore. If you're looking for a tiny crack fix or other small drywall repair, you don't want to purchase a bigger version, right? Decide the product size/weight based on your usage and needs.If you have a larger drywall repair that needs to be done, then of course you will want a larger size of the best drywall mud.
Curing Time
This is a crucial criterion for the best drywall mud. This is essential when you're working within a strict timeframe. Drywall mud may take as long as 24 hours to cure completely. However, some types, like the fast drying drywall mud, cure in just a few hours. The cure time is important for many projects. However, it must also be long-lasting and have a smooth surface. So, you want to make sure that a shorter cure time does not sacrifice any quality.
Durability and Performance
It isn't fun to carry those trowels for drywall back to fix a single issue. Therefore, you should seek out high-performing drywall mud. After the joint compound has dried, it must be durable and simple to sand. This should lead to an even finish that lasts longer and won't cause any problems within the timeframe. Additionally, if the material isn't smooth, you'll have difficulty getting primer coats.
FAQS
Is drywall mud the exact same as a joint compound? 
They're basically the same thing, but with two names. Drywall mud can be described as what may also refer to as a joint compound. It's made up of calcium sulfate dihydrate and adhesives. It is a great option to repair drywall holes and cracks and install edge guards to guard the internal or external corners.
What does mud drywall mean?
It's a process of applying layers of drywall mud or drywall joint compound. First, you can smooth out any uneven dents, scratches, bumps, visible nails, and screws. Then, it makes the wall flat and ready to paint. So, you can create a lavish interior that is waiting to greet your guests.
Conclusion
These are the best fast drying drywall muds if you're working on fractures or patching holes. These products will greatly assist you with your project without compromising quality. They will hide all flaws and get the job done. We hope you'll find the perfect one from our selection for your needs!
Share :